The California Preservation Conference
Deep Roots in Dynamic Times
S H E R A T O N  P A L O  A L T O  |  M A Y  17 – 20, 2018
Conference Overview
Historic preservation faces enormous challenges in a time of rapid change. This conference will examine the most innovative methods and strategies for upholding and instituting historic preservation, both across the state and in the dynamic, high-tech region of the Silicon Valley. See iconic historic places in tours, mobile workshops, and engaging conference sessions. Come together to explore how historic preservationists, affordable housing advocates, architects, designers, planners, engineers and more can partner together in upholding our cultural heritage in a fast-paced, economically vibrant state and region.
Join the California Preservation Foundation, The City of Palo Alto, and Palo Alto Stanford Heritage (PAST) at the Sheraton Palo Alto to celebrate the deep historic roots of a dynamic, culturally diverse, high-tech region and state.
Accommodations & Transportation
The 43rd Annual California Preservation Conference will be held at the Sheraton Palo Alto.
Reserve your room. Room rates expire!
Group Name: California Preservation Conference
Sheraton Palo Alto
625 El Camino Real
Palo Alto, CA 94301[ https://goo.gl/maps/2F7M2RV9g8u ]
Registration
Registration is will open in early 2018!
Sponsor Advertising +Underwriting
The California Preservation Conference has become an essential gathering for California's historic preservation community and offers a unique promotional opportunity.
You can support the conference as a Sponsor or Advertiser. There are many opportunities to promote your products and services to preservation professionals from all corners of California.
Sponsorship Program
Firms can support as a Conference Sponsor or an Annual Sponsor. Conference Sponsors gain maximum exposure for the duration of the Conference advertising period. Annual Sponsors gain exposure and benefits throughout the year.
Conference Program Advertising – Resource Directory
Purchasing advertising space in the Conference Program ensure that over 500 design professionals, government staff and non-profit leaders will see your company's ad. This is a great resource directory for all conference attendees. All ads are full-color and sizes range from 1/4 page to a full page.
Conference Exhibitor Tables
Purchasing exhibition space at the conference center provides prominent exposure to our 500+ attendees. Exhibitors receive full access to the conference (excluding ticketed events)
Exposure, Access to Leaders in Preservation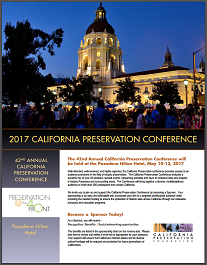 – Conference Sponsorship Matrix – 
 – Sponsorship Commitment Form – 
 – Program Advertising Form – 
 – Conference Exhibitor Form –
Track Titles
The California Preservation Foundation and its partners and Program Committee identified 30+ sessions, mobile workshops, and study tours that reflect this year's conference theme and tracks.
Five tracks were identified and the the following sessions will be presented at the conference. Check our website for updates to the programs and schedule.
Tracks, Sessions, and Mobile Workshops
To be announced!
Event Details
The conference program includes all event details. Keep an eye out for future updates!
Volunteer
Volunteers Needed!
Do you want a front row seat at the premier statewide preservation conference to be held at the Sheraton Palo Alto, May 17 – 20, 2018?
Volunteers are needed for a variety of activities including assisting with registration, sessions, tours, and special events during the entire conference. For every session you volunteer for, you get to attend a session for free! For those who are volunteering for workshops, events or tours you get to attend that workshop, event, or tour for free! If you are interested in volunteering, please submit the volunteer form after reading the volunteer information.
All volunteers are required to attend a conference volunteer training session. Volunteer training will be held online Thursday and Friday, April 26-27, 2018
If you have any questions about volunteering, please call (415) 495-0349 x200 or email cpf@californiapreservation.org.
Apply Now - 3 Minute Success Stories
The Three-Minute Success Stories event is an opportunity to present your very own preservation success story!
The Three-Minute Success Stories has been a California Preservation Foundation tradition stretching back to the 3rd Annual California Preservation Conference in 1978. While humor often comes to the fore, the program also gives preservationists a chance to present local successes to a statewide audience, sharing a wide variety of preservation experiences in lively and entertaining ways.
Three-Minute Success Stories have told of buildings restored after earthquakes, giant industrial cranes being relocated, enlightening adaptive reuse, modern architecture coming of age, community efforts overcoming all odds to save an important local landmark, and historic places saved from bulldozers at the last moment. Be adventurous!
The application and guidelines are now available so tell your success story with style and humor!