Sponsor the Conference!
Exposure & Access to the State's Leaders in Preservation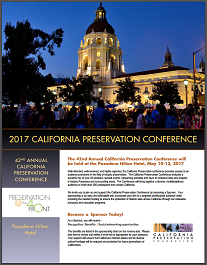 – Conference Sponsorship Matrix – 
 – Sponsorship Commitment Form – 
 – Program Advertising Form – 
 – Conference Exhibitor Form – 
The California Preservation Conference
Preservation at the Forefront
P A S A D E N A  H I L T O N  H O T E L | M A Y 1 0 – 1 3, 2 0 1 7

Conference Overview
Celebrate forty years of preservation advocacy where two of the state's leading organizations have their roots. Explore the most innovative historic preservation practices by examining the region's rich legacy as a steward of historic places. Explore iconic historic places in tours, mobile workshops, and engaging conference sessions.
Join the California Preservation Foundation and Pasadena Heritage at the Pasadena Hilton to celebrate the 40th Anniversary of our founding.
Accommodations & Transportation
The 42nd Annual California Preservation Conference will be held at the Pasadena Hilton Hotel.
Reserve your room. Here is the link to the list of participating hotels and reservation details.
Group Name: California Preservation Conference
Group Code: CPF16
Check-in: 10-MAY-2017 | Check-out: 14-MAY-2017
Phone Number: 626-577-1000
Special Room Rates: 1 KING BED from 179.00 USD/Night | 2 DOUBLE BEDS rates from 179.00 USD/Night
Pasadena Hilton
168 S Los Robles Ave
Pasadena, CA  91101[ https://goo.gl/maps/fXE1jBzmGTr ]
Registration
Registration will open in January. Please check back here for updated registration and conference information.
Programs
The California Preservation Foundation and its partners and Program Committee identified 30+ sessions, mobile workshops, and study tours that reflect this year's conference theme and tracks.
Five tracks were identified and the the following sessions will be presented at the conference. Check our website for updates to the programs and schedule.
Tracks, Sessions, and Mobile Workshops
The Best Laid Plans: Case Studies in Preservation Planning
This track explores the often complicated issues facing historic preservation planners using a variety of interesting and engaging real world examples. Sessions address appropriate infill construction in historic districts, campus planning, issues in preserving a City Beautiful-era civic center, financial tools, and applying preservation standards to historic infrastructure. Don't let your project go awry!
Mobile Workshop: Pasadena's Iconic Civic Center
Old Pasadena – Context Senistive Design for New Construction in a Historic District
Secretary of the Interior's Standards for Historic Highway Infrastructure
TDRs for Today: RE-Evaluating Transfer of Development Rights
Lights, Camera, Preservation: Preservation Planning for Motion Picture Studios 
Bridges to Inclusion: Linking Equity and Historic Preservation
This track explores the nexus between socio-economic equity and historic preservation. The discussions and case studies that make up this track highlight the multifaceted challenges, efforts, and victories encountered by professionals seeking the conservation of California's diverse heritage. Join us as we cover topics like obtaining formal designation for culturally significant resources and making historic housing affordable to contesting gentrification in historic neighborhoods.
Mobile Workshop: Affordable Housing and Historic Preservation in Pasadena
Half-day Workshop: Preserving Urban Latino Community and Culture in California
Joining Forces: A Panel Discussion on Affordable Housing and Historic Preservation
Preserving Latin@ History in California
The Challenges of Formal Designation in Marginalized Communities
Revitalization: Gentrification or Preservation?
From the Ground UP: Cultural Landscapes
Explore the variety and intricacies of documenting, treating and managing cultural landscapes. Sessions will address historic landscape design, managing multiple layers of significance, changing climate challenges, and documenting diverse resources on Historic Route 66. Learn from the ground up!

Mobile Workshop: Arroyo Arts & Crafts Residential Cultural Landscapes
Route 66 in California
Ruth Shellhorn: Mid Century Landscape Architecture in Southern California
Giving Heritage Sites New Life: Treatment conundrums and opportunities at multifaceted cultural landscapes
Preserving Cultural Landscape in the Face of Climate Change 
Resiliency & Preservation: Preparing for Disaster and Change in the 21st Century
The concept of resiliency is more than preparing for and responding to natural disasters. Resilient communities must adapt to a wide array of additional stresses, including climate change; income disparity; technological change; and shifting social norms. This track explores the challenges and opportunities in developing the capacity to respond to natural disasters and 21st century changes, while conserving our shared heritage.

Mobile Workshop: Historic Little Tokyo in the 21st Century – Protecting Cultural Identity, Affordability, and Mobility for a New Generation
Resiliency and Preservation: Preparing for Disaster and Change in the 21st Century
Fire and Drought: Preparing Our Cultural Heritage to Contend with a Changing Climate
Thou shalt be Resilient! California's New Wave of Seismic Ordinances
Flooding and Sea Level Rise: How to prepare for extreme events and environmental change
Analyze This: 40 Ways to Capture Reality
Explore a range of tools, methods and technologies for documenting existing buildings; capturing detail and characteristics of our heritage. Whether you are looking to map the historic assets of an entire city, record a structure or just investigate a recurring damp patch, this track will provide an overview of the many options available. There will be opportunities for both beginners and experienced and professionals looking at advanced uses of technology in preservation. Get your hands dirty through interactive workshops and more!
Hands On: Documenting Pasadena
Technologies in Preservation: The impact of mapping tools on preservation
From SurveyLA to HistoricPlacesLA: Creating a Historic Resources Inventory with Arches
Graphic Documentation: Precise Pixels and Capturing Character
Is BIM The Right Tool For Preservation?
Study Tours
Pasadena Bungalow Courts: Then & Now
Saving Pasadena – 40 Years of Preservation Progress with Pasadena Heritage
Restoration and Sesimic Retrofit of Los Angeles City Hall
Exploring Los Angeles' Union Station: History, Architecture, Rehabilitation and Future Vision
Adapting the Rose Bowl for a New Century
Historic San Gabriel Mission District Walking Tour
History Walk and Happy Hour in Partnership with Highland Park Heritage Trust
Sponsor Advertising +Underwriting
The California Preservation Conference has become an essential gathering for California's historic preservation community and offers a unique promotional opportunity.
You can support the conference as a Sponsor or Advertiser. There are many opportunities to promote your products and services to preservation professionals from all corners of California.
Sponsorship Program
Firms can support as a Conference Sponsor or an Annual Sponsor. Conference Sponsors gain maximum exposure for the duration of the Conference advertising period. Annual Sponsors gain exposure and benefits throughout the year.
Conference Program Advertising – Resource Directory
Purchasing advertising space in the Conference Program ensure that over 500 design professionals, government staff and non-profit leaders will see your company's ad. This is a great resource directory for all conference attendees. All ads are full-color and sizes range from 1/4 page to a full page.
Conference Exhibitor Tables
Purchasing exhibition space at the conference center provides prominent exposure to our 500+ attendees. Exhibitors receive full access to the conference (excluding ticketed events)
Exposure, Access to Leaders in Preservation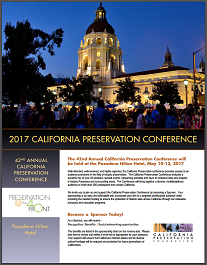 – Conference Sponsorship Matrix – 
 – Sponsorship Commitment Form – 
 – Program Advertising Form – 
 – Conference Exhibitor Form –
Volunteer
Volunteers Needed!
Do you want a front row seat at the premier statewide preservation conference to be held at the Pasadena Hilton, Pasadena, May 10 – 13, 2017?
Volunteers are needed for a variety of activities including assisting with registration, sessions, tours, and special events during the entire conference. For every session you volunteer for, you get to attend a session for free! For those who are volunteering for workshops, events or tours you get to attend that workshop, event, or tour for free! If you are interested in volunteering, please submit the volunteer form after reading the volunteer information.
All volunteers are required to attend a conference volunteer training session. Volunteer training will be held online Thursday and Friday, April 27-28, 2017
If you have any questions about volunteering, please call (415) 495-0349 x200 or email cpf@californiapreservation.org.
Apply Now - 3 Minute Success Stories
The Three-Minute Success Stories event is an opportunity to present your very own preservation success story!
The Three-Minute Success Stories has been a California Preservation Foundation tradition stretching back to the 3rd Annual California Preservation Conference in 1978. While humor often comes to the fore, the program also gives preservationists a chance to present local successes to a statewide audience, sharing a wide variety of preservation experiences in lively and entertaining ways.
Three-Minute Success Stories have told of buildings restored after earthquakes, giant industrial cranes being relocated, enlightening adaptive reuse, modern architecture coming of age, community efforts overcoming all odds to save an important local landmark, and historic places saved from bulldozers at the last moment. Be adventurous!
The application and guidelines are now available so tell your success story with style and humor!