Get CPF updates
Sign up below to receive advocacy alerts and updates from CPF.
Search for Preservation Jobs
View preservation job listings in California and beyond. To add a new job listing, use the link at the bottom of the page or contact Andrew Shaffer at ashaffer@californiapreservation.org.
Landscape Architect
Position Description
---
Landscape Architect – PGAdesign
Experience Required: 6+ years
PGAdesigninc has an opening for a creative professional who welcomes a busy office with the opportunity to be involved in all aspects of a broad range of project types.  We are a fourteen-person firm of Landscape Architects. Active projects include preservation and cultural landscapes, high-density multi-family housing, parks, urban design, civic, and transit projects.
We are seeking a well-rounded, intermediate or higher level professional (6+ years). We have particular interest in preservation experience, familiarity with applying the Secretary of the Interior's Standards, and experience with all aspects of contemporary landscape architecture design and production.
Our office is at the corner of 17th Street and Broadway, near the 19th Street BART station in Oakland's Uptown District.
YOU WILL BE ACCOUNTABLE FOR:
Writing and graphic documentation of preservation projects ranging from site assessments, preparation of treatment recommendations, to master planning and construction documents for rehabilitation of cultural landscapes
Coordinate all project phases & schedules
Create conceptual design drawings through to construction documents
Grow to support with marketing & business development
Requires proficiency in the application of landscape architectural design standards, practices, and techniques
QUALIFICATIONS:
6+ years relevant work
Self-starter
Ability to collaborate & train others
Strong production skills, able to take a project from start to finish for design and construction documents
Detail oriented
Proficient with AutoCAD, Photoshop and InDesign
Revit, SketchUp, and 3d rendering software ability is helpful
Landscape Architecture license in the State of California is a bonus, but not required
BENEFITS
100% medical & dental
pre-tax health & commuter benefits.
401k profit sharing
Competitive pay with bonus opportunities
PGAdesign is an equal opportunity employer.  Salary commensurate with skills and experience.
Company/Organization Description
---
About Us: Collaboration and Creativity
PGAdesign creates landscapes that help people live, celebrate, navigate, and play. Founded in 1979, the firm has been involved in a broad array of public and private projects, including parks, plazas, schools, multifamily housing, transit corridors, urban development, historic preservation, and master plans. Our work has been recognized with local, state, and national awards.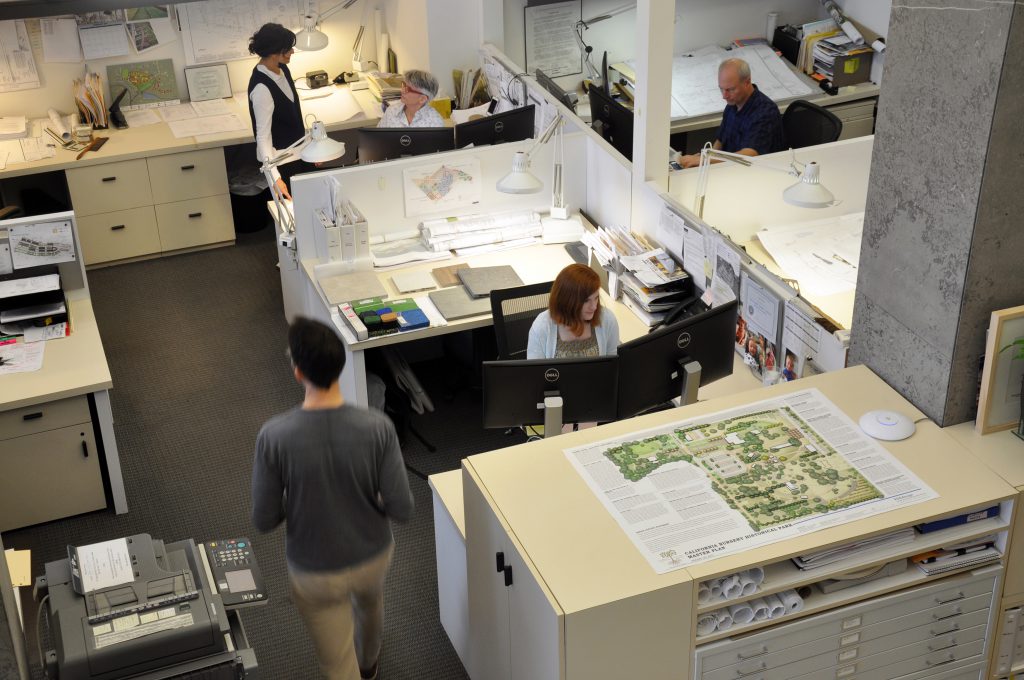 Inclusive Design and Joyful Engagement
We believe in using our skills and experience to reveal the site's unique qualities while elegantly integrating client's mission and program. PGAdesign conceives memorable places through creative design and effective problem solving. Our work has been recognized with local, state, and national awards.
PGAdesign is a certified WBE/DBE under the California Unified Certification Program.
Pay Range (Annual): Commensurate with Experience/Negotiable
Location: Oakland, CA
Job Type: Full Time
How to Apply
---
Interested applicants should reach out to Cathy Garrett ( garrett@pgadesign.com ) or Cecilia Distefano ( admin@pgadesign.com )