Celebrate
From architectural icons, to transcendental cultural landscapes, California is rife with places worth celebrating. The California Preservation Foundation's mandate not only focuses on educating and advocating for the protection of these places. We also have celebrated the places that matter most to Californians, from its monumental works of architecture and engineering, to the diminutive-yet stunning roadside vernacular architecture of places like Route 66.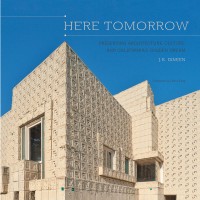 Here Tomorrow, a stunning 250-page tome of the state's most beautiful preservation achievements takes its inspiration from our three-decade old Preservation Design Awards, which celebrate the best in historic preservation. This section of our website contains stories and narratives that celebrate the complexity and beauty of California's historic places.
We hope you enjoy these stories, and encourage you to purchase Here Tomorrow to share in the celebration of California's multilayered and multicultural history.
Praise for the Projects Recognized at the Annual California Preservation Foundatoin Design Awards
"These saved structures reverberate with the promise and achievement of California. Thanks to preservation programs—and to the explications and photographs of this celebratory inventory—these buildings will continue to serve as icons of regional identity for a state committed to heritage and futurity."

—Kevin Starr, University of Southern California, California State Librarian Emeritus

"The historic buildings in the San Francisco Bay Area and in California… have helped to define our communities, revitalize our neighborhoods, bolster a thriving tourism economy, and have helped put people back to work. By retelling the story of these architectural icons, a new generation will learn of their stories and how they define our region."

—San Francisco Mayor Ed Lee