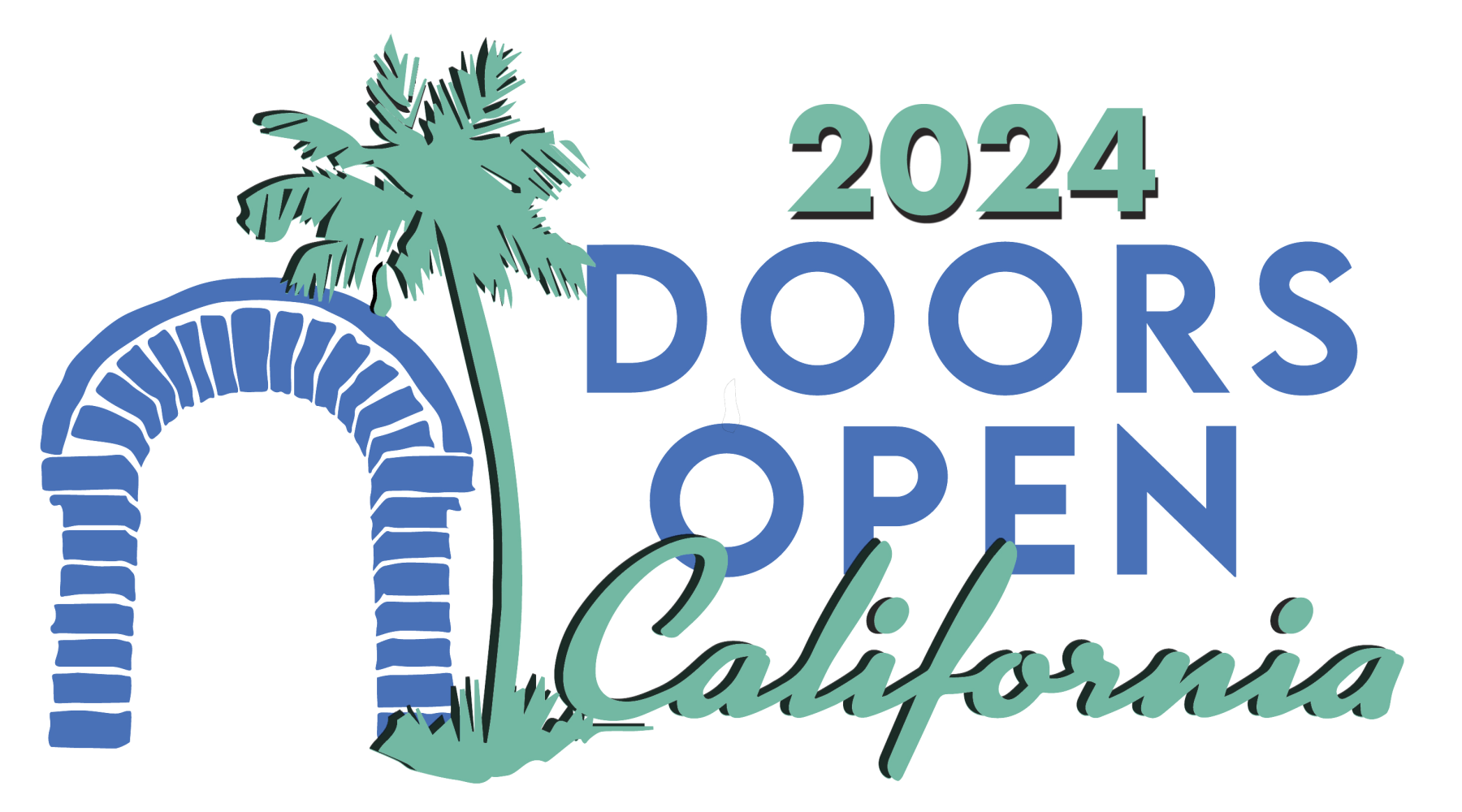 Call for Ideas
General Details
We would love to hear your ideas! This simple form is meant to be completed in less than five minutes.
Submitting a Doors Open Opportunity
We are accepting ideas no later than Monday, December 19th, 2023 at 5 PM Pacific.  
About Doors Open California
Doors Open California is the largest statewide celebration of historic places in California. Enthusiasts of historic architecture, design, and cultural heritage will have access to select sites across the state on weekends in the month of September.
Visitors get rare and special access to amazing architecture and hidden histories, and will have behind-the-scenes and special access to unique, threatened or preserved buildings, landscapes, or features in a variety of communities. Whether walking tours, hidden vaults of local museums, inaccessible areas of historic buildings, or enlightening stories told by our state's best raconteurs - these are all rare chances to experience history first-hand that normally is not available to the public.
This event is led by the California Preservation Foundation (CPF), the longest-running statewide organization dedicated to the protection of California's diverse cultural resources and historic places.
Important Dates & Deadlines
December 18:

Submission deadline: Submit Doors Open California ideas, including descriptions, photos, and access details.

March 4:

Early access registration for Doors Open California Programs offered to CPF Members and Partners.

March 25:

Doors Open California Public registration opens to the general public.

Weekends in September: Doors Open California Tours & Programs (across the state)
Who are Doors Open California Partners?
Doors Open California Partners are critical to making this event creative, inclusive, and compelling. Partners could be nonprofit organizations, firms, local governments, educational institutions, museums, property owners, or anyone interested in sharing a special, unique place in their community that is worth recognizing and protecting.
Partners tap into CPF's international audience of more than 25,000 supporters and followers.
For 2023, our partners included:
· Anaheim Packing District

· California Genealogical Society

· California State Parks - Benecia Capitol Building

· Carnegie Observatories

· City of Inglewood

· City of Sacramento

· City of Santa Maria Recreation and Parks Dept.

· City of West Hollywood

· Crystal Cove Conservancy

· David Meagher

· El Pueblo Park Association and El Pueblo Historic Monument

· Elk Grove Historical Society

· Fiddletown Preservation Society

· Filoli

· Friends of the Michael White Adobe

· Gilroy Historical Society

· GLBT Historical Society Archives

· Helen and Joe Chew Foundation

· Heritage Preservation Commission, City of Colusa

· House of Spain in San Diego

· Isleton Museum

· Lemon Grove Historical Society

· Los Angeles Unified School District

· Mannequin Madness

· Mission Peak Heritage Foundation / Shinn House Museum

· Monterey County Historical Society, Inc.

· Morlin Asset Management, LP on behalf of Los Angeles Union Station

· Neutra Institute for Survival Through Design

· Niles Essanay Silent Film Museum

· Nirvana Hollywood Skyline

· Old Mission San Jose

· Old North Sacramento (Uptown/Dixieanne) Community Association

· Old Riverside Foundation

· Pacific Locomotive Association, Inc. dba Niles Canyon Railway

· Pasadena Heritage

· Patterson House at Ardenwood Historic Farm

· Redwood Valley Railway

· San Buenaventura Conservacy for Preservation

· San Diego Archaeological Center

· San Francisco Planning Department

· Saratoga Foothill Club Historic Landmark Foundation

· SF Heritage/Haas-Lilienthal House

· Sierra County Historical Society

· Spanish Town Heritage Foundation

· Spectra Company

· Stanford Historical Society - Committee on Tours & Events

· Stewards of the Coast and Redwoods

· Stockton Gurdwara - Stockton Sikh Temple

· The Enterprise Building, & The 320 Premier Hall

· The Monday Clubhouse Conservancy

· Treasure Island Museum

· Truckee-Donner Historical Society

· Trumark Companies

· Two Canyons Conservancy

· USC Pacific Asia Museum

· Warnecke Architectural Archives

· Washington Township Museum of Local History

· Western Neighborhoods Project

· Workman and Temple Family Homestead Museum
What makes for a compelling Doors Open California experience?
We are looking for behind-the-scenes or special access to unique, threatened, and/or preserved buildings or sites in your community. Doors Open could include walking tours, visits to the hidden vaults of local museums, access to the behind-the-scenes areas of historic buildings. As part of the tour, Partners may delve into the uniquely Californian history of places in your community, such as the history of neon lighting, social justice movements, food histories, art histories, and more.
What does it require?
Being a Doors Open California partner is simple. You just open the doors to the public and show visitors a special place, tell an untold story, or show your visitors why this place, your place, matters. You will need to have a staff member, volunteer, or local expert available to lead your Doors Open site for the date of your experience. We can help connect you with a volunteer if you need extra support.
Experiences could include:
Guided walking tours of a specific historic building, site, or neighborhood.

Access "behind the scenes" - a unique look at architecture, landscapes, or infrastructure from a different perspective.

Unique experiences at places that typically charge an admission fee - consider waiving the admission fee for this Doors Open California day.

Self-guided tours (curated by paper guide, phone application, or podcast)
At the Experience location, additional programming could include:
Special informal lectures on unique topics

Community watch party of a documentary or feature film, followed by a panel discussion or Q&A.
Access Types
Open Doors
You will arrange a time with CPF to be available at your location and CPF will promote it to its partners and network. You can choose to be available on one day or both days of the Doors Open California event.
Special Access
If there are constraints on the number of people you can accommodate, or if you require attendees to pre-register and reserve a spot for your event, then Special Access allows you to limit the size of your group. CPF will handle all registration - you will simply arrange for your on-site expert to lead or monitor the registered attendees.
Self Guided Adventure
You will need to create or provide CPF with a paper guide, phone app, or podcast (or distribute hard copy guides at the beginning of your Doors Open California event). These self-guided programs are ideal if you are highlighting a larger area or cultural landscape that must be explored on foot, bike, or other modes of transportation.
Virtual Passport
Virtual passport programs allow a much larger audience to see what makes your community or historic place special. CPF has a 15-year history of providing virtual/online programming and can make available any completed or already produced online programming you would like to share, such as virtual or pre-recorded tours.
Examples of Programs
Sample events can be found at our First Annual Doors Open California page, which may help inspire your ideas. A full listing of last year's Doors Open events can also be found at: https://californiapreservation.org/files/DoorsOpenDescriptions.pdf
2021 Doors Open included more than 40 distinct events held across the state, including...
SoMa LEATHER & LGBTQ Cultural District Tour
Special Access to the Warnecke Architectural Archives
Filoli Mansion and Grounds - Special Behind-the-Scenes Greenhouse Tour and Museum Access
Stockton Gurdwara: The First Sikh Institution in the United States
Chew Kee Store Museum & Home - A Century-long Legacy Frozen in time - Tour and Tea Drinking Experience
Backstage Tour of the Ebell Woman's Club
Download Our Full Partner Guide
Learn More at our Live Online Orientation
If your proposal is accepted, you will receive an invitation to our Live online informational session, scheduled for February 12, 2024 where all of your questions can be answered about COVID-19 protocols, volunteers, and more.
Submit Your Idea Here
Please note, fields are not required - so if you're not sure who could be a speaker, you can still submit an idea, for example.