Get CPF updates
Sign up below to receive advocacy alerts and updates from CPF.
Volunteers play a vital role with the programs and operations of the California Preservation Foundation. Over 300 individuals donate over 2,000 hours annually to teach workshops, lead study tours, volunteer for members' events, serve on committees, monitor historic easements, plan our conference and raise funds. We need the support of all volunteers to help people protect historic buildings and sites in California. There are many ways that you can help and have fun along the way.
Check our volunteer needs below and let us know where you would like to help out.
Annual Conference
Workshop Speakers
Committees
Office
Special skills needed
Volunteer to Support CPF
Complete this online form and we will contact you regarding your offer to volunteer.
Online Education Assistant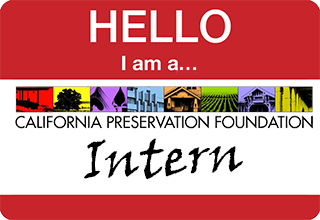 THIS POSITION IS CLOSED TO APPLICATIONS. Check out our Committees and other volunteer opportunities on this website.
The Online Education Assistant is a volunteer position with the California Preservation Foundation (CPF). Our nonprofit foundation runs the state's most active online education program for historic preservation professionals and we are looking for a motivated student interested in education, web design/development, or historic preservation to help play a leadership role in our new education and outreach initiatives. This is an opportunity for you to make life-long connections with historic preservation professionals in government, nonprofits, and architectural design firms across the state. You will learn from our Field Services Director, who will help train you in using some of the latest tools – the same tools used by prestigious universities from coast to coast in training students online – so you will come away from the internship with some very marketable job skills! We are located in one of San Francisco's most beautiful and historic buildings, right off of the Montgomery Street BART stop. We are also open to working with your college or university to fulfill any internship requirements.
Conference Volunteer Opportunities
Do you want a front row seat to California's premier statewide preservation conference?
Volunteers are needed for a variety of activities including assisting with registration, sessions, tours, and special events during the entire conference. For every session you volunteer for, you get to attend a session for free! For those who are volunteering for workshops, events or tours you get to attend that workshop, event, or tour for free! If you are interested in volunteering, please submit the volunteer form after reading the volunteer information.
Application coming soon!