How to submit a successful PDA nomination
A free informational webinar on
Submitting a Successful Preservation Design Award Project
(Originally recorded on March 15, 2022).
Awards Ceremony
Preservation Design Award Sponsor Details
Download a PDA Sponsorship Packet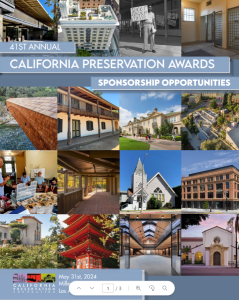 Celebrating the Best in Preservation
Nominations are now being accepted for the 2024 Preservation Design Awards. The Awards Ceremony will be presented to a live audience at The Millenium Biltmore, Los Angeles in May of 2024. 
The early deadline for nominations is midnight Pacific time on Friday, January 5, 2024.
The late deadline for nominations is midnight Pacific time on Friday, February 2, 2024.
Payments by Check or Credit Card are accepted
Entry fees:
$225 per project (early deadline – 1/5/24)
$325 per project (late deadline – 2/2/24)
$150 for nonprofit or community organizations (submitted by 2/2/24).
Overview of the Preservation Design Awards
We invite you to submit applications for the Preservation Design Awards, which recognize projects ranging from the smallest infill to large restorations; sustainable efforts; cultural heritage and intangible heritage efforts; and more!
The online nomination consists of seven (7) steps that are completed at your own pace. All steps must be completed before a nomination will be processed, including payment.
Please complete the following steps in succession
You may download the worksheet prior to entry to fill in details and review materials and questions required for entry.
Basic Login/Account Setup (click on the enter tab above)
Page 1: Basic Entry Details.

Entrant Details, including contact information
Project, including name, entry category, and location of project

Page 2: Lead Participants & Project Affiliates

Project Lead / Principal Contact Information
Client / Owner Contact Information
Lead Architect, Engineer, or Designer Contact Information

Page 3: Affiliates Contact Information
Page 4: Narrative & Questionnaire
Page 5: Upload Required Materials and Final Checklist

Application Checklist
General Checklist
Required Uploads

Page 6: Review Your Full Submission Before Completing Payment
Page 7: Payment (made online by credit card)
Please contact CPF if you have any questions: 415-495-0349 or email us at pda@californiapreservation.org.
Submission Due Dates and Fees:
Final (late) Deadline for nominations is February 2, 2024. Payments by Check or Credit Card are accepted
Entry fees: $250 per project, $150 for nonprofit or community organizations.
Applications must be received by midnight Pacific Time on Friday, February 2, 2024 (early applications received by January 5, 2024 are eligible for a reduced fee)
What projects are eligible?
Qualifying projects include historical structures (50 years or older) or properties on, or determined eligible for, national, state or local historical registers or inventories, such as the National Register of Historic Places, California Register of Historical Resources, State Historical Landmarks, State Points of Historical Interest, and city or county registers, inventories or surveys of historical or architecturally significant sites, places or landmarks.
Non-structures could include cultural resource studies, archeology and interpretive exhibits, or cultural heritage / intangible assets.
All projects must be located in California, or in the case of a study, etc., must deal with a California subject.
Project entries must have been completed between January 1, 2019 and December 31, 2023.
Who can nominate a project for a Preservation Design Award?
Submissions are invited from owners, architects, craftsmen, contractors, landscape architects, engineers, planners, archaeologists, developers, architectural historians, organizations, volunteers, students and others engaging in historic preservation activities.
Submissions require the written permission of the owner/client and architect or lead designer (if there is one) before entries will be considered.
Nominating a project
Projects previously submitted which did not receive awards are eligible for re-entry. Please email pda@californiapreservation.org if you would like to re-submit a previous entry.
Only one submission per project is needed, regardless of the number of categories entered.
Jury Composition, Selection and Presentation of Awards
The winning projects will be selected by a jury comprised of distinguished professionals representing a cross-section of disciplines in the field of historic preservation and cultural heritage.
The entry application materials have been developed to help ensure that all submissions remain anonymous until after the jury's evaluation.
Winners will be notified in the spring of 2024.
Free Recorded Webinar: Submitting a Successful Design Award Nomination
A free training webinar to introduce you to the critical process and parts of a successful preservation design award application.
Required Materials – How to Apply Online
Each entrant must submit all required materials online. The list below includes descriptions and requirements for all required materials. If you have any questions, please call CPF at 415-495-0349 or email cpf@californiapreservation.org.
Entry Form

Use "Entry Form"
Online
Entry Form



Project Affiliates and Release forms

See "Release Form" and "Project Affiliates Form" downloads
Uploaded Online after Completing and Signing
Each applicant must submit a list of the project team, including (as applicable) project architects, preservation architects, engineers, contractors, developers, landscape architects, principal author (for reports), etc. This form is an Excel spreadsheet and is found after completing step 1 (the Entry Form).

Do not submit this as a PDF

.

Release Forms must be completed by downloading the release form and uploading it to our website, or - alternately - sending the online link to the copyright-holder to sign via digital signature. The form and instructions are found on "Release Form" (step 2 of 5).
Overview Summary of the Project (40 words) -

must NOT include any names of the parties involved

.

See "Questionnaire"
Online
Overview Summary of the Project (40 words): This document is used by the jury as an introductory statement; winning projects may have their Overview Summery included on published material, including awards power point presentation press releases, where a brief statement describing the project is in order. This document should be submitted in Word rather than in PDF format, this facilitates staff in preparation of published material.
Project Description and Questionnaire- must NOT include any names of the parties involved

See "Questionnaire"
Online
The Narrative & Questionnaire includes the following fields.

- Project Narrative (150 word max.): This is used by the jury to develop a full understanding of the project context, history and importance.

- Why is the project important to the community (250 word max.)

- Is the site listed or determined eligible for the National or California Registers, or local landmark, historic district or inventory?

- Describe the site or building's HISTORIC significance (i.e. what makes the project significant as an historic site) (150 word maximum) (not applicable to Category 7: Cultural Heritage, Intangible Assets)

- Dates of original construction and alteration; period of significance (not applicable to Categories 5 - 7)

- Describe why the project deserves an award, specifically addressing work conducted by your team that is outstanding or of an exceptional nature?

- What were the project's goals and objectives? (community, intangible assets, etc.) (not applicable to Categories 1-4)

- Describe the condition immediately prior to the work of the project? What were the Features/Structures involved in the project? When did the project start and when was it completed? (not applicable to Categories 5 - 7)

- When did the project start and when was it completed?

- Explain how you applied the Secretary of the Interior's Standards or other governing standards (not applicable to Categories 5 - 7)

- Contextual Infill: Explain the relationship to the surrounding context (not applicable to Categories 5 - 7)

- Explain any technology or practices of the project which promote environmental design, material and energy conservation. (Optional & not applicable to Categories 5 - 7)
- If the project is a Cultural Resource Report/Study, how is report being used within community? (Optional & only applicable to Category 5)
- Any other information the Applicant would like the Jury to receive. (Optional)
- Does this project benefit the community by: Increasing accessibility (financial, equity, etc.); Assisting underserved populations; improving quality of life for residents; stimulating economic vitality and job creation; etc.
If Study or Report – PDF included - must NOT include any names of the parties involved (please REDACT all names of individuals or firms). Include index of Images of Drawings/Plans

See "Upload Materials"
Word or PDF
Cultural Resource Studies and Reports must be submitted in a PDF document (all names of parties involved must be removed); Remember to omit the author's name on the submission – white out is acceptable for this. Images showing the report's subject matter are also acceptable.

Only the project's name should appear on the PowerPoint presentation, the Project Description, Project Overview and the Study/Report (if applying for the Cultural Resource Report Category). Please do not state the name of the entrant, or any project participants on the summary, plans, and images. This is to help ensure a "blind" process where the entrants' identities are not disclosed to the jury at any time during the selection process.
PowerPoint Presentation (PPTX file format preferred). If you use Keynote, please export to PDF.

See "Upload Materials"
PowerPoint
PowerPoint files that are submitted should be accessible, that is, not in read-only format or in PP Viewer. Do not embed images or incorporate layering or image transitions. Font styles that are readily available, such as Arial, are preferred.

Submit no more than 12 PowerPoint slides; these may be made up of several images. Photos should include as many before and after photos as possible of. The goal is for the jury to understand the nature of the site and extent of the work performed. Please title or include a caption for each image to explain which image is being viewed. When used, plans and drawings should be incorporated in sufficient number to show the nature of the work.
File of high resolution images (6 min.)

See "Upload Materials"
JPEG, PNG, OR TIF
Include images used in slide show for inclusion in the awards presentation, program and all publicity.

Photos should be submitted as a minimum size 8" x 10" image at 300 dpi (dimensions = 2400 x 3000 pixels). Images should be submitted as jpg, eps or tiff files.
OPTIONAL INFORMATION

See "Upload Materials"
Word or PDF
At the discretion of the applicant, supplemental information may be provided. There is no guarantee that the jurors will review supplemental material.
Optional architectural, landscape and engineering plans and drawings

See "Upload Materials" (step 4 of 5)
PDF
Optional architectural, landscape and engineering plans and drawings may be included in the submittal for building, landscape and engineering projects to illustrate the breadth and detail of the work done. These must be readable on 8 ½" x 11" sized paper. All plans should show a north arrow and a graphic scale. Documents may include a site plan, floor plan, elevations, sections, and roof plan, showing all structures on the project site and pertinent landscape features. Plans should clearly indicate the extent of the work performed; original (interior and exterior) configurations and removals or additions must be noted.
Supporting documentation, such as letters of recommendation.

See "Upload Materials"
JPEG OR PDF

Letters of recommendation from local preservation organizations, landmarks commissions or others may also be included, but not required.
Application Checklist

See "Application Checklist"
Online
The online "Application Checklist" must be completed and submitted electronically. This verifies that the application material is complete and will direct the application to the online payment tab.
Payment
Online
Payment for all applications is required before the application will be processed. Upon completing the Application Checklist, you will be redirected to the secure payment portal. If you need assistance with this, please call CPF at 415-495-0349.
Award Categories
1. Preservation or Restoration
Preservation: This category includes the process of sustaining the form and extent of a structure, as it now exists. Preservation aims at halting further deterioration and providing structural stability, but does not involve significant rebuilding, restoration, or rehabilitation.
Restoration: This category addresses projects that accurately depict the form, features, and character of a property or structure as it appeared in a particular period of time by means of the removal of features from other periods in its history and reconstruction of missing features from the restoration period. Emphasis is on historical accuracy.
2. Rehabilitation
This category recognizes projects that make possible the continued historic use, or a compatible new use, through repair, alterations and additions, while preserving those portions or features which convey a site or structure's historical, cultural or architectural values.
3. Reconstruction or Contextual Infill
Reconstruction: This category includes the act or process of depicting, by means of new construction, a non-surviving site, landscape, building, structure, or object to replicate its appearance at a specific period of time and in its historic location. Emphasis is on historical accuracy.
Contextual Infill: This category includes compatible freestanding new construction adjacent, or in relation to, historic structures. Such work should reflect the compatibility of new work with historic properties in regard to matters of massing, size, scale, architectural features and the protection of the historic character of the property and its contextual surroundings.
4. Craftsmanship/Preservation Technology
Outstanding workmanship carried out in a project such as those specified above may be submitted in one of those categories and/or the Craftsmanship/Preservation Technology award. This category honors excellence in craftsmanship or technological innovation pertaining to a single element of an overall preservation project, such as stained glass restoration, duplication of historic wall finish or mural, wrought iron, stonework, etc. or practices to historic structures or sites, which promote environmental design,material and energy conservation, and an improved quality of life.
5. Cultural Resource Studies, Reports
This category includes creative, innovative, and precedent-setting approaches to technological issues, preservation planning issues, and educational awareness or advancement. Products submitted for this award may include, but are not limited to: architectural and/or historical inventories or surveys, historic structure reports, register nominations, computer software developed for preservation activities, planning studies, research papers, technological reports, film/video documentaries, and historic preservation elements of general plans.
6. Archaeology and Interpretive Exhibits: Archaeology
This category recognizes the scientific study and preservation of the vestigial remains of the built environment of previous cultures and societies; eligible work may include the documentation, stabilization or interpretation of the material remnants of structures associated with past human life and activities. Interpretive Exhibits: This category also recognizes projects that provide or integrate exhibits that offer information about an historic feature or site; eligible work may include interpretation of features or sites that bring to life the people, construction techniques, materials, or events associated with the place. Exhibits may be temporary or permanent.
7. Cultural Heritage, Intangible Assets
This category takes the preservation practice beyond structures of merit to award efforts to document or recognize living rituals, memorialization, and cultural practices or movements.
Intangible Assets: This category may include but is not limited to: traditions or living expressions inherited from ancestors and passed on to descendants, such as oral traditions; performing arts; social practices; rituals; festive events; knowledge and practices concerning nature and the universe; or the knowledge and skills to produce traditional crafts. Award nominations in this category could include survey and documentation efforts, exhibits, nominations, public outreach efforts, or other significant efforts to recognize and communicate intangible heritage.
Cultural Heritage: This category includes the recognition, documentation, or study of significant sites, practices, or movements that define California's cultural history, including political, social, and other cultural movements. Sites of memory and consciousness that hold significance for painful or otherwise important historical moments or movements would fall under this category.
Entry Form
Please enter your login information below and save this information in a safe place in case you'd like to return to your application or edit it.
Login and Edit an Existing Application
Remember, to log in to an existing application, your username would be the email address used to submit the application, and the password is the password you created earlier.