Registration & Details
Details
$175 Non-members Full Conference. Includes one year of Individual Membership ($50)
$150 Members Full Conference
$75 per day for Day 1 and Day 2
$95 per day for Day 3 (Professional Training Day)
Students FREE | Speakers FREE
Continuing education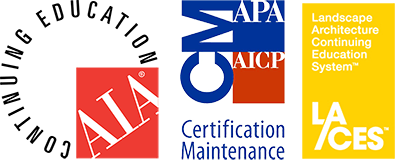 All live programs qualify for continuing education units through the AIA, AICP, ASLA and CLG. All attendees can take advantage of our continuing education program at no additional cost.
Many sessions qualify for Health, Safety, and Welfare units (HSW)
Some sessions will qualify for AICP legal and ethics credits
Register securely online through CPF's Website:

For More Information
Track Titles
With our online format we have an unprecedented opportunity to expand our programs and address the enormous issues facing heritage conservation in California and beyond. To do so, the focus of the conference programs will be based on a set of values that broadly define the challenges before us as preservationists:
Excellence & Innovation. Overcoming technical challenges using the latest and best practices in preservation.

Using tools and other knowledge to complete challenging projects.
Harnessing the power of new technology
Ensuring that preservation keeps abreast of new knowledge and discoveries

Imagination & Vision. Using creativity and gumption to move preservation in new directions.

Creative solutions to difficult preservation challenges
Coalition building
Storytelling
Thinking outside of the preservation box
Intersecting with other disciplines and finding common ground and common solutions.

Relevance. How can heritage conservation improve the quality of life? Sessions within this field will demonstrate and discuss preservation's role in some of the following challenges of the 21st Century:

Housing
Environmental Justice
Immigration
Health
Education
Jobs

Repair. How do we address the process and result of erasure and painful moments in history?

Helping communities that have lacked preservation programs
Making "history right"
Addressing conflict and mistrust
Telling the untold

Technology Toolkit. Professional training webinars to get you ahead in current research and design methodologies.
Tuesday, June 8, 2021 - Online Programs
Programs for Day 1:
Keynote Session
The Celebration of Inclusiveness: Towards an Integrated Approach
Intersection with Public Historian Podcasters
Black Lives Matter: Preserving Memories, Stories, and Expressions
Expanding Local Narratives Through the California Cultural Districts Program (Parts 1 and 2)
LGBTQ+ Heritage: Wins, Losses, and Challenges
Acknowledgement is Empowerment: Telling the Redlining Story
Special Evening Event
Wednesday, June 9, 2021 - Online Programs
Programs for Day 2:
Conversation Starter: Policy & New Paradigms and Tools of Cultural Heritage in California
Reorienting the Narrative: California's Pre-Colonial History
Lunch Keynote: Reframing Integrity, Launching the Revolution
Conversations on Affordable Housing + Preservation in California
Ghost Hunting: Using Virtual Reality to Explore the Past
Conversations on Climate Change & Preservation in California
Sense(s) of Place: Exploring Olfactory and Auditory Heritage
Special Evening Event
Thursday, June 10, 2021 - Online Programs
Programs for Day 3:
Windows are the Eyes of Our Buildings: Diagnosis and Investigation
Divine Illumination: Conservation of Terra Cotta Tracery and Stained Glass in Two California Churches
Annual Meeting
Protecting Historic Buildings and Components from Vibration Damage
Investing in Community Heritage: Mitigation that Works
Evaluating and Restoring Historic Curtain Walls and Monumental Entrances
Telling the Whole Story: Histories of Violence, Racial Justice, and Heritage Conservation
Sponsorship
All New Benefits for 2021! You can network your company and get essential training opportunities for your staff.
As a Conference Sponsor you will have access to widespread opportunities to promote your products and services to preservation professionals from across the country and internationally. Our reach extends to all 50 states and 14 countries.
Become a Conference Sponsor! Check out all our new online benefits HERE or click the image below.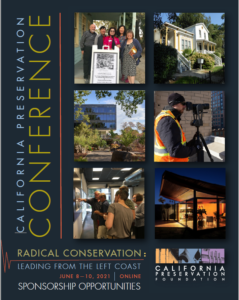 Past Conference Programs
Interested in Our Past Programs?
Click the year of the program below for all the fun details from the last three years at the CPF Annual Conference.
​​
| | |
| --- | --- |
| | 2020 Online Conference Details |
| | 2019 Palm Springs Conference Details |
| | 2018 Palo Alto Conference Details |
Annual Partners
Visit each sponsor's website at our Sponsor's page