This page is sponsored by…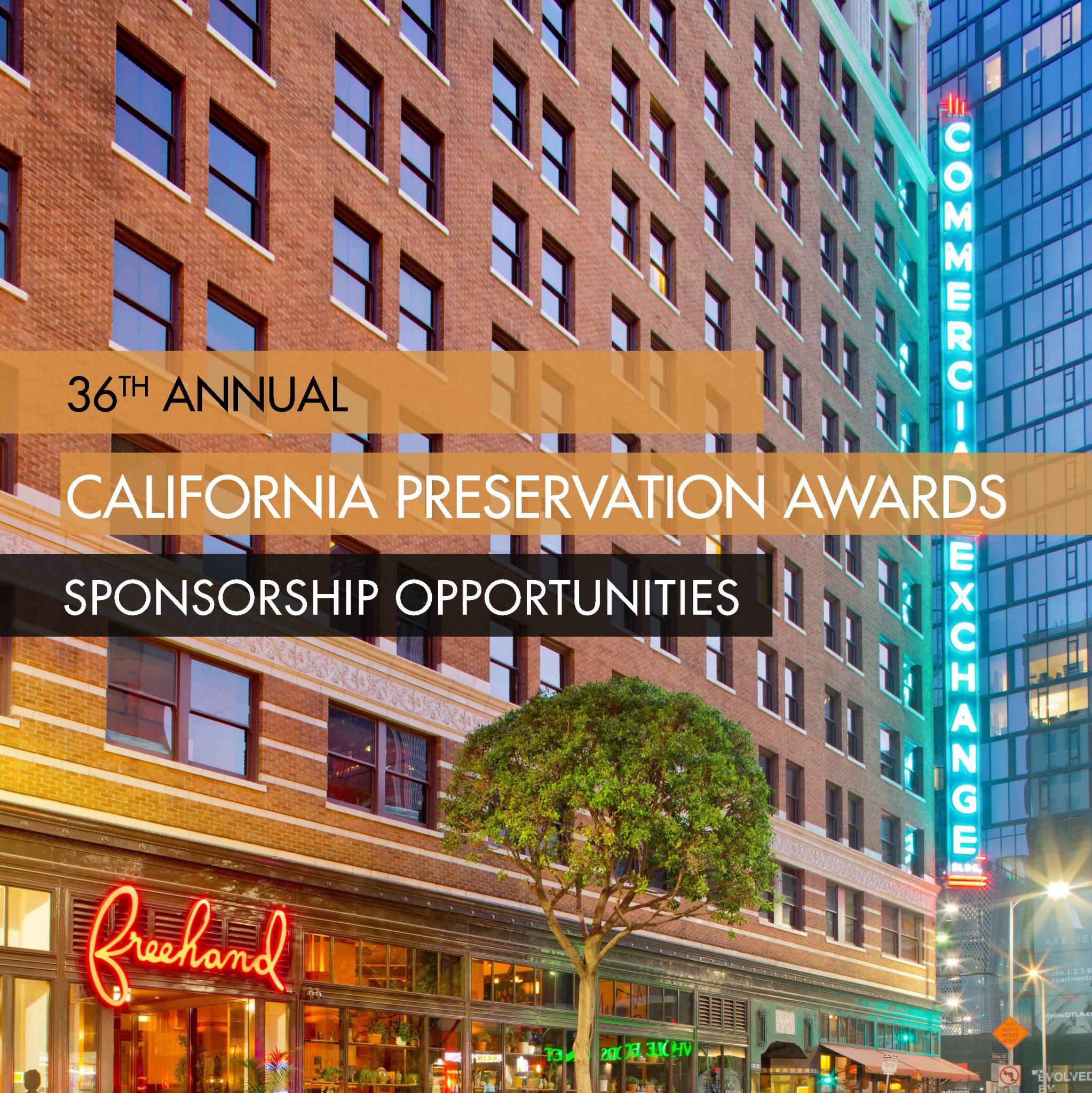 Sponsorship Opportunities
About CPF and the Awards
The California Preservation Awards are a statewide hallmark, showcasing the best in historic preservation. The awards ceremony includes the presentation of the Preservation Design Awards and the President's Awards, bringing together hundreds of people each year to share and celebrate excellence in preservation.
The California Preservation Foundation (CPF), a 501c3 nonprofit, was incorporated in 1978. We now support a national network of more than 20,000 members and supporters. Click here to learn how you can become a member.
Napa County Courthouse
The Napa County Courthouse is the winner of a 2019 Preservation Design Award for Restoration. Award recipients are selected by a jury of top professionals in the fields of architecture, engineering, planning, and history, as well as renowned architecture critics and journalists. In making their decision the jury noted the difficulty in updating historic courthouses, stating, "meeting ADA requirements and the specific needs of court construction without destroying the historic rooms is a tough challenge. This is a beautiful project, and the results are really impressive."
The Award will be presented on Friday, October 18, 2019 at a gala dinner and awards ceremony at the InterContinental Mark Hopkins in San Francisco. Tickets and sponsorship options are available at californiapreservation.org/awards.
About this project
Napa Courthouse consists of three parts: the 16,000 square foot Italianate-style section, known as the "Historic Courthouse," constructed in 1878; the westernmost portion, known as the Hall of Records, constructed in 1916; and the Annex which connects the two, constructed in 1978 to replace the original jail.
At 3:20 am on August 24, 2014, the Napa Courthouse was damaged in the South Napa Earthquake. Registering 6.0 on the moment magnitude scale, the earthquake was the strongest to hit the Bay Area since the 1989 Loma Prieta earthquake. While the Historic Courthouse was heavily damaged by the temblor, the other parts were relatively unscathed. After inspection, clean-up, and construction of a demising wall separating the Historic Courthouse, the Hall of Records and Annex were reopened. The Historic Courthouse was braced for stability, and construction on the repairs began in 2017. The grand reopening occurred on January 22, 2019.
Photos via TreanorHL, used with permission.
Project Team
Project Lead/Construction manager
Tim Daley, AECOM
Katrina Garza, AECOM
Steve Gottesman, AECOM
Owner/Client
Ryan Gregory, Napa County (Chair)
Minh Tran, Napa County (CEO)
Kerry Whitney, Napa County (Risk Manager)
Steve Lederer, Napa County (Public Works Director)
Liz Habkirk, Napa County (Deputy Director of Public Works)
Helene Franchi, Napa County
John Vicencio, Napa County (Assoc. Engineer)
Juan Arias, Napa County (Deputy Director of Public Works)
Architects/Historic Architects
Nancy Goldenberg, TreanorHL
Elizabeth Graux, TreanorHL
Kimberly Butt, TreanorHL
Aysem Kilinc, TreanorHL
Janet Getz, TreanorHL
Affiliated Architects
Brian Wright, TLCD
Dennis Kennedy, TLCD
Structural Engineers
Kevin Zucco, ZFA
Luke Wilson, ZFA
Brett Shields, ZFA