Application Release & Affiliates (step 2 of 5)
Application Release Form
You will need to give formal permission to CPF to use your photographs. Simply email the link to this page to the photographer or copyright-holder and have them sign through the form below. If they prefer to sign on a document, please use this template and upload it on the final step of the form.
If you prefer the more direct route you would send the link to this page to the photographer or copyright holder for images submitted.
Signature Page
Release Form:
Permission to Use Copyrighted & Submitted Material
The undersigned, as copyright holder (or project entrant, if no copyright involved) hereby grants permission to reprint, publish and use for distribution all photographs and slides submitted as part of the CPF Preservation Design Awards entry which may be included in any California Preservation Foundation (CPF) Preservation Design Awards-related publicity or publications, including press releases about the winning projects and/or the Awards program, the Awards Program Book, CPF newsletter, CPF website, and future exhibits, releases, materials, programs or publications that may be developed about CPF and/or the Awards program and winning projects.
Alternately, if you prefer to have the copyright holder sign directly, you can download the form as a Word doc below: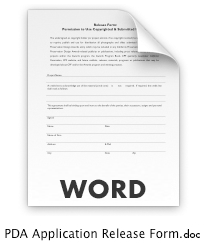 Project Affiliates Spreadsheet
The PDA – Affiliates Spreadsheet Template must be completed to provide CPF with complete contact information about all applicable participants in your Project including:
Project Lead & Title
Owner/Client & Title
Architect/Landscape
Author & Title
Historic Architect
Lead Engineer
Consulting Engineer
Landscape Architect
Historic Preservation Consultant
Contractor
Specialty Sub-Contractor(s)
Additional Participant(s)
To complete the affiliate list, we recommend using the form below. Please complete this as thoroughly as possible. If you prefer to work from an Excel template, which you can subsequently upload, please download the template here. Otherwise, you can submit details on the form below.
Option 1: Affiliate List Excel Template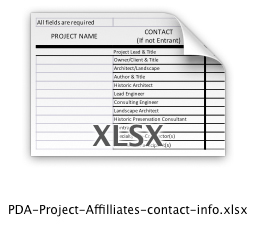 Upon completing all other steps, you will arrive at a page to upload these forms, but until then, please save them for uploading later.
Option 2: Affiliate List Online Form