Book Club: African American Leisure Sites during the Jim Crow Era
Our free book club is for people who have read the book, are interested in the topic, or who just want to get together with friends. Reading the book in advance is not necessary. Just come on in with your curiosity and questions! Donations are gratefully accepted and help us keep these programs open for everyone! 
Quote from book:
"Preserving the common and divergent patterns of many African American leisure retreats in California and across the United States is important for the public memory of these sites, as well as a proper understanding of them as places of commerce, social networks, community, identity, contestation, and civil rights struggle."
About this Program and the Book
JeffersonBookFlierJune2021REVISED

Speaker Biography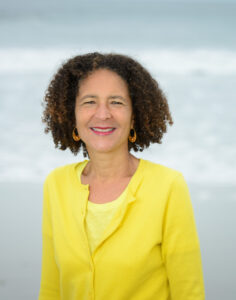 Alison Rose Jefferson, M.H.C., Ph.D. Dr. Alison Rose Jefferson is a historian, heritage conservation consultant and a third generation Californian. Currently she is a Getty Conservation Institute fellow where she's continuing her research on the historical African American experiences and public policies to conserve it in the California Coastal zone in Venice, California. 
Her recent book, Living the California Dream: African American Leisure Sites during the Jim Crow Era (University of Nebraska Press) was honored with the 2020 Miriam Matthews Ethnic History Award by the Los Angeles City Historical Society for its exceptional contributions to the greater understanding and awareness of regional history. 
You can visit the Applied History projects drawing on her research of Southern California locales which feature historical significance as well as contemporary consequence while elucidating the historical African American experience at Santa Monica's Belmar History + Art and the Angels Walk LA Central Avenue heritage trail. Learn more about Dr. Jefferson's work at alisonrosejefferson.com. 
Copies of Dr. Jefferson's books are available at the University of Nebraska Press website in epub and hard copy formats. Save 40% with CODE 6AF19 and CODE CS40UNP (Outside North America). This program will be simultaneously broadcast LIVE on the CPF Facebook account. You will be able to engage, ask questions, and chat with friends on each site!