Book Club: L.A.'s Legendary Restaurants by George Geary
L.A.'s Legendary Restaurants: Celebrating the Famous Places Where Hollywood Ate, Drank, and Played. George Geary, best-selling cookbook author and chef, takes you on a journey to where the rich and famous ate in the Golden Age of Hollywood, from the style of architecture to the architects that created these iconic long-lost buildings. Learn what happened to these buildings and what replaced them in this free, lunch-time program on April 7 at noon, Pacific time. You'll get an insider's tour of Hollywood through its restaurants, along with some fun facts, trivia, and recipes in this online conversation with the author. 
About the Book: Author George Geary, Foreword by Barbara Fairchild
 October 2016, 336, Santa Monica Press
 9781595800893
 8½ x 11,  Hardcover
Buy the Book on Amazon
L.A.'s Legendary Restaurants is an illustrated history of dozens of landmark eateries from throughout the City of Angels. From such classics as Musso & Frank and The Brown Derby in the 1920s to the see-and-be-seen crowds at Chasen's, Romanoffs, and Ciro's in the mid-20th century to the dawn of California cuisine at Ma Maison and Spago Sunset in the 1970s and '80s, L.A.'s Legendary Restaurants celebrates the famous locations where Hollywood ate, drank, and played.
Author George Geary leads you into the glamorous restaurants inhabited by the stars through a lively narrative filled with colorful anecdotes and illustrated with vintage photographs, historic menus, and timeless ephemera. Over 100 iconic recipes for entrees, appetizers, desserts, and vintage drinks are included, and all are updated for today's cook and kitchen.
While many people have heard the story of Elizabeth Taylor requesting that Chasen's famous chili be flown to her on the set of Cleopatra in Rome, L.A.'s Legendary Restaurants will offer facts and trivia that aren't as well known to the general public, such as Bob Hope's favorite place to enjoy a hot fudge sundae after the Academy Awards, the restaurant where part of a table was sawed off to accommodate a pregnant Lana Turner, and the pharmacy where composer Harold Arlen wrote "Over the Rainbow" for The Wizard of Oz.
But L.A.'s Legendary Restaurants contains much more than the fancy, high-priced restaurants favored by the Hollywood cognoscenti. The glamour of the golden age of drive-ins, drugstores, nightclubs, and hotels are also honored. What book on L.A. restaurants would be complete without tales of ice cream sundaes at C.C. Brown's, cafeteria-style meals at Clifton's, a late-night breakfast at Ben Frank's, or a mai tai at Don the Beachcomber?
Most of the locations in L.A.'s Legendary Restaurants no longer exist, but thanks to George Geary, the memories are still with us. And with Geary's updated recipes, we can still enjoy many of the same iconic dishes that kept customers coming back to their favorite haunts week after week. L.A.'s Legendary Restaurants will have you longing for the days when going out for a meal was truly a special event.
Speaker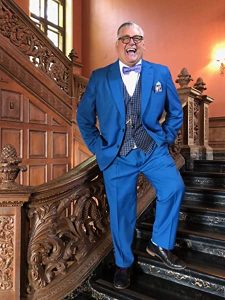 George Geary, CCP, can be seen on local and national morning news programs. Currently he is the Resident Chef on CBS8 San Diego and on Hallmark's "Home and Family."A regular contributing editor to several magazines and newsletters, he was the former Pastry Chef and production manager for the Walt Disney Corporation and the Marriott Corporation. Prior to that, George worked in Food Styling, creating many of the major iconic foods from TV Shows such as those famous Cheesecakes from Golden Girls. Besides writing, George owns a tour company where he takes students on culinary adventures of France and major cities of the country. In 2012 George Geary Tours were awarded a Frommers Award for Tour Guide. Also in 2012 he was awarded an IACP Culinary Tour Operator Award. George also teaches in over 120 schools worldwide.