Paint with Light at the Presidio – Night Photography Workshop at a National Historic Landmark
Held Quarterly throughout 2020. Scheduled dates are: 
Friday, March 6th, 2020 | 5:00 pm - 9:00 pm
Friday, March 13th, 2020 | 5:00 pm - 9:00 pm
Friday, June 5th, 2020 | 6:00 pm - 10:00 pm
Friday, September 25th, 2020 | 5:00 pm - 9:00 pm
Learn how to photograph landmarks in the dark - all while using off-camera and improvised lighting setups to create colorful, whimsical, and artistic night photography images. A quick in-class study session will be followed by a tour of the Presidio's most stunning features and an on-site night photography workshop taught by an internationally published night photographer and professional historian. You'll learn about the history of the Presidio, visit its grandest and most magnificent landmarks, including massive Coastal Defense bunkers, and spend 3 hours in the field with hands on instruction on how to use your digital cameras in the dark. You well never see San Francisco in the same light again - that is without daylight! All lighting for your photographs will be provided by you and your instructor to create stunning, colorful images using long exposures.
This course is appropriate for anyone interested in photography, San Francisco Bay Area History, and historic defense-related architecture. You will also have a chance to hone your skills using two of San Francisco's most well-known landmarks, the Golden Gate Bridge and Palace of Fine Arts. All skill levels are welcome, though the course will train you in basic to intermediate night photography and lighting techniques. We recommend you bring your own cameras. This tour is limited to only six participants to ensure you receive the most comprehensive training.
Where you'll be
Explore Historic Coastal Defense Bunkers, including portals to underground storage for projectiles
Capture views of the Golden Gate Bridge at night with training on expert photography techniques
Learn about the architecture and landscape of a National Historic Landmark, the only one of its kind in the country
Visit a hidden cemetery of a unique kind on the Presidio military base at night, where you'll practice night photography techniques
What we'll provide
Creative supplies and Photography. You are encouraged to bring your own camera and tripod. If you do not have a tripod or camera, you will have the opportunity to practice on a professional-grade digital camera. Tripods may be provided on request.
What you should bring
Camera
Tripod
Warm Clothes Small Flashlight or Illumination Source
Water & Snacks
Secure a date
Instructor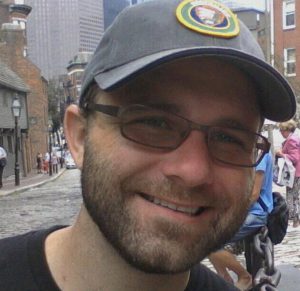 Jon Haeber is an author, photographer, and urban historian who has led San Francisco's longest running rooftop history and lore tour. He attended graduate school to embark on his current career at a nonprofit organization devoted to protecting California's irreplaceable historic landmarks. He has an M.A. in US History from UMass Amherst, B.A. degrees in English and Geography from UC Berkeley. He is an internationally published photographer and is author of two book on architectural photography.