Young at Heart: A Historic, Holiday Series by the California Preservation Foundation
Young at Heart: A Special Four-Part CPF Holiday Series
Visit our Annual Auction!
Lots of gifts and experiences to enjoy for friends and family. Bidding ends December 16. Check it out! Join us for this four-part series that explores our relationship to historic places through imagination, play, and creativity. This special program will include a special online auction, where you can bid on playful and fun historic items that will appeal to both the young and young at heart!
Part 1: "Playing Places" | Tuesday, November 30, 2021 | 10 – 11 AM (all times Pacific)
Part 2: "Sacred Spaces" | Thursday, December 2, 2021 | 10 – 11 AM
Part 3: "Let's Hit the Slopes" | Tuesday, December 7, 2021 | 10 – 11 AM
Part 4: "Gingerbread Builder" | Tuesday, December 14, 2021 | 5:30-7:00 PM Happy Hour!

Enter the Gingerbread Contest Below. Deadline: Monday, December 13, 2021 at 7 PM PST
Enter the Gingerbread Contest
Simply submit any image of a gingerbread structure you've created in this year or the distant Holiday past. Deadline is Monday, December 13 at 7 PM Pacific.
Part 1: "Playing Places" | Tuesday, November 30th, 2021 | 10:00 – 11:00 AM (Pacific)
Mythical creatures and abstract art played a large part in some of California's midcentury playground structures. See some of the most amazing examples of historic playground architecture in this special feature, highlighting the advocacy efforts and fascinating history behind some of California's most beloved playground architecture.
Speakers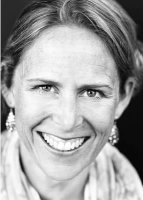 Senya Lubisich, PhD, is a professional historian with more than 20-years of teaching experience. Doctor Lubisich's entry into public history and preservation began when a local resource in San Gabriel, California was threatened with demolition. She joined with two other families to found a non-profit to preserve and restore the (now officially) historic La Laguna Playground in San Gabriel's Vincent Lugo Park.

The whimsical playground was created by Benjamin Dominguez, a concrete artist from Mexico. Although he created playgrounds across the Southwestern United States, only three remain: San Gabriel, Garden Grove, and Legg Lake at the Whittier Narrows. The resulting non-profit that was formed commissioned an award-winning Historic Structures Report, which successfully nominated the playground to both the California and National Registers of Historic Places.

Doctor Lubisich has benefited greatly from the training and resources of the National Trust, California Preservation Foundation, and LA Conservancy. She participated in the 2009 Preservation Leadership Training in Deadwood, SD along with other seminars and conferences, and has participated in the process to update the Historic Preservation Ordinance in San Gabriel and continued to bring nominations for historic resources forward. She has worked alongside student volunteers and community members to submit Mills Act applications as well.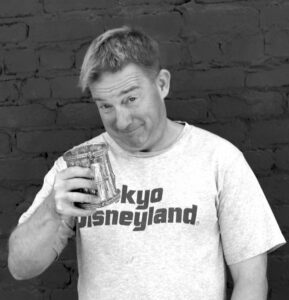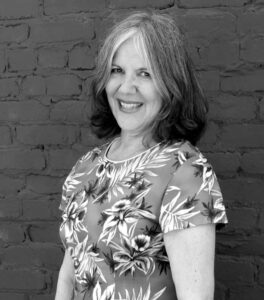 Susan Casentini and Kyle Milligan, Founders, Lake Merritt Mid-century Monster Fan Club. Kyle and Susan have been residents of Lakeside Park in Oakland for 20 years. They've continued to renovate their 1915 home.
From 2008-2013, they owned and operated, Studio Quercus, a vibrant art gallery and performance space in the Uptown District.
They've been active members of the Lake Merritt Breakfast Club, Children's Fairyland, the Oakland Autumn Lights Festival and the Gardens of Lake Merritt.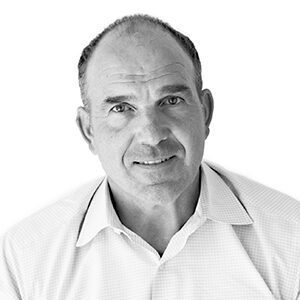 Peter Birkholz, AIA, LEED AP, is a Principal at Page & Turnbull, a San Francisco based architecture and preservation firm. In Peter's 30+ years career as a practicing Architect he has focused on adapting and bringing new life to historic structures; representative projects include Piers 1 ½, 3, and 5 Rehabilitation in San Francisco, the Walt Disney Museum at the Presidio of San Francisco, and the Peninsula Hotel in Milan, Italy. Peter was part of the Hassell+ team on the Resilient by Design | Bay Area Challenge: a proactive and collaborative effort to develop new solutions for tackling the effects of climate change. As a surveyor in the Safety Assessment Program managed by the California Office of Emergency Services, he saw firsthand the destruction caused by climate change related fires in Sonoma County. Through his work as an Architect working on projects on the San Francisco waterfront, he has actively sought solutions to protect the historic pier structures from the threats of sea level rise.

Part 2: "Sacred Spaces" | Thursday, December 2nd, 2021 | 10:00 – 11:00 AM (Pacific)
Get an exclusive look at the Partners for Sacred Places, the only national nonprofit organization dedicated to the sound stewardship and active community use of older and historic sacred places, is delighted to introduce several of its programs at this one-hour lunch-time program. Its programs primarily serve congregations and affiliated nonprofits - of all faiths and denominations.
We Will
Discuss our wrap-around capital grant program, the National Fund for Sacred Places, which funds significant preservation projects for purpose-built houses of worship with an active congregation
Introduce an upcoming series of virtual workshops focused on fundraising for historic houses of worship
Spotlight the First Congregational Church of Long Beach, a recent winner of the 2021 Preservation Design Award for Craftsmanship/Preservation Technology (and National Fund for Sacred Places grantee).
Speakers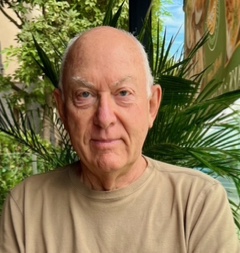 Steven D. Crow. After graduating from Lewis and Clark College, Steve received his Master's and Ph.D. degrees in U.S. History from the University of Wisconsin-Madison (WI). In 1982 he began working in Chicago with The Commission on Institutions of Higher Education of the North Central Association of Colleges and Schools, the largest regional institutional accrediting agency in the U.S. Over the next 26 years he rose from Assistant Director to Executive Director/President, the role he filled from 1997 until he retired in June 2008. He provided leadership to the Commission (renamed The Higher Learning Commission) and its 1025 member institutions, assuring the effectiveness of regional institutional accreditation and representing the organization nationally and internationally. In Chicago, through volunteer work largely church-related, he devoted many hours to agencies addressing homelessness and serving people with AIDS. After moving to Long Beach in 2012, he joined First Congregational Church of Long Beach where he shared in resettling Ugandan refugees and served as a member of the Building Preservation Committee, a member of the Sanctuary Choir, and, since 2017, the Treasurer of the Church. In 2016 he chaired the Capital Campaign that raised pledges of $1.1 million toward repairing the east façade of the historic sanctuary. As Treasurer, Steve sits on the Executive Council and is an ex officio member of the Board of Stewardship and Finance.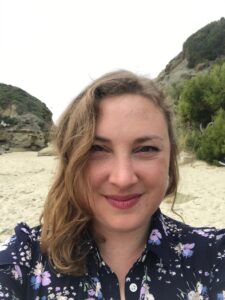 Allison King, Grants and Programs Manager, Partners for Sacred Places. After graduating with a Bachelors of Art from Reed College, Allison began her career working as a conservation technician in public and private art conservation labs in Los Angeles. She transitioned her skills and knowledge from art to architectural conservation when she began working with her church to launch a $2.5 million historic preservation project to stabilize the terra cotta tracery, stained glass rose windows, and patterned brickwork. Allison formally pursued her interest in architectural conservation at the University of Pennsylvania where she graduated with a Master of Science in Historic Preservation in 2019. Allison interned with Partners for Sacred Places in the fall of 2018 working on several grant funded projects such as the Nordic American Churches website and the Playing and Preserving pipe organ survey. She joined the Partners team full time once she finished her graduate degree. She currently brings her passion for material culture, the arts, and social heritage to her work with the National Fund for Sacred Places, as well as other Partners initiatives such as the Arts in Sacred Places Program.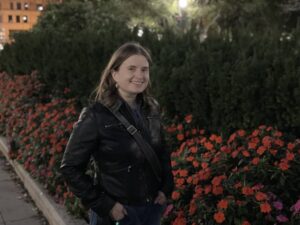 Sarah Jones, Associate Director of Community Engagement, Partners for Sacred Places. Sarah holds a Master of Divinity from McCormick Theological Seminary, as well as a Master of Social Service Administration from the University of Chicago. In her work with Partners, Sarah coordinates and oversees consulting projects, facilitates community engagement services, and develops new services to build congregations' capacities for building stewardship and community service. Sarah brings experience designing and implementing service programs for returning citizens through the Safer Foundation in Chicago, IL. Sarah has also worked with the Southwest Organizing Project, where she organized faith communities on Chicago's Southwest side, and the International Organization for Adolescents, where she completed a needs-assessment and resulting policy recommendations for orphaned and vulnerable children in Ethiopia.
Cara Varnell, Art Conservator, Textile Arts Conservation Studio. Cara is a member of First Congregational Church of Long Beach and has been a part of the building's historic preservation process from the outset. For over 35 years she has been an art conservator, specializing in textiles,. She has held conservation staff positions at the Fine Arts Museum of San Francisco, The Costume Institute of the Metropolitan Museum of Art and the Los Angeles County Museum of Art. Since 1999 she has been in private practice and works with museum, institutional and private clients around the country. Cara revceived her conservation training at the Textile Conservation Centre in England.
Part 3: "Let's Hit the Slopes" | Tuesday, December 7th, 2021 | 10:00 – 11:00 AM (Pacific)
Winter sports are a relatively recent phenomenon in the U.S., but they have had a profound impact on our cultural and built milieux. The design of the associated structures and infrastructure has evolved over time as new technologies and snow sports emerged. Today, many American resorts are nearing a century old, and include a hodge-podge of buildings - some with complex and master-planned mountain landscapes designed by renowned Architects and Landscape Architects. Join us for this fast downhill journey through our nation's ski resort history with guest appearances by some of our leading experts on ski resort landscapes and architecture. Don't miss this quick jaunt through ski resort design history, including a look at one of our most iconic ski resorts in the U.S. the Depression-era and National Historic Landmark, Timberline Lodge, as well as the the never-completed vision of Walt Disney in Mineral King, California.
Speakers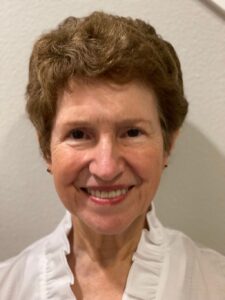 Sarah Baker Munro has been active with Friends of Timberline since it was organized in 1975. She co-wrote a catalog of the lodge published in 1977 and authored Timberline Lodge: The History, Art, and Craft of an American Icon, published by Timber Press in 2009, and reissued through Cascadian Publishing Company in 2020. She also wrote a history on Timberline that was published by Arcadia Press in 2016. In 2004, Sarah co-sponsored a symposium at the Portland Art Museum on New Deal Labor Arts and curated an exhibit on the New Deal in Oregon at the Oregon Historical Society. She recently drafted a Multiple Property Documentation form for the Oregon State Historic Preservation Office, and a related National Register nomination form for the State Library of Oregon.
Sarah graduated from Pitzer College in Anthropology and Art History and completed an MA in Folklore at the University of California at Berkeley. Her research for her thesis focused on Basque-American folklore in eastern Oregon. In 2018, she retired as the Director of the Hoover-Minthorn House Museum in Newberg, the boyhood home of Herbert Hoover, 31st President of the United States.
Amy Wally, GIS Specialist/Cartographer, Adventure Cycling Association. Amy grew up in Northern California and moved to Missoula in 2013 to fulfill a lifelong dream of living in Western Montana. She earned her master's degree in Geography from UM in spring of 2015 and began working at Adventure Cycling in fall of 2015. Amy loves to spend the weekends in the mountains, exploring the beautiful wildness that Montana has to offer with her husband Garin. When not escaping into the wilderness, Amy can be found biking around town, hanging out at the Top Hat, or snuggling up with a good book and her two precious cats, Sugar and Spice.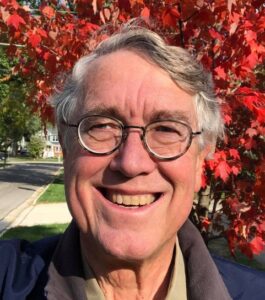 Werner Weiss is the Curator of Yesterland (http://www.yesterland.com). Yesterland began as a tribute to the 40th anniversary of Disneyland park in 1995. Werner has visited Disneyland regularly since 1958—three years after it opened. He launched Yesterland with around a dozen pages, each with one tiny photo. He has been updating the site ever since. Yesterland now has more than 600 pages and thousands of photos, including a feature on the never-completed vision of Walt Disney to create a ski resort in what is now Sequoia National Park at Mineral King.
Part 4: "Gingerbread Builder" | Tuesday, December 14th, 2021 | 5:30-7:00 PM (Pacific) Happy Hour!
Whether you're an architect or an aspiring pastry chef, this fast and fun evening will showcase some of the best gingerbread building based on historic buildings, including Frank Lloyd Wright's Fallingwater, the San Francisco Ferry Building, the architecture of Cliff May, and much, much more. We'll close the program with an interactive gingerbread building contest. Where CPF members and friends will show us their best efforts to be judged by a neutral panel of design experts.
Special Guests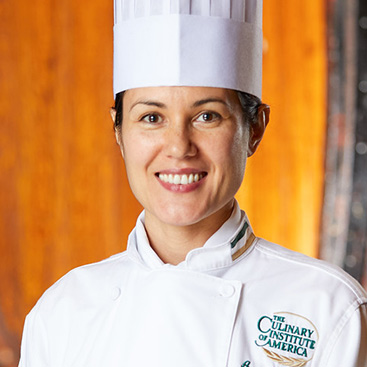 Chef Angela Salvatore is a lecturing instructor in Baking and Pastry Arts at the Culinary Institute of America, Greystone in Napa Valley, California. She has the honor of being the first alumnus of the Greystone campus to return as a faculty member with well over a decade of baking and pastry experience in Napa, San Francisco and Connecticut.
Angela got her start in bakeries specializing in special occasion cakes and baked goods. It was her time on the opening Moss & Stone team at The California Academy of Sciences where Angela began bridging the gap between bakery and restaurant operations. She worked her way up the ranks in this high-volume setting managing a wide range of patisserie, grab and go and café items in the Academy Café as well as creating and executing the fine-dining menus of The Moss Room while designing sugar showpieces for museum events.
During her time as Executive Pastry Chef at Waterbar in San Francisco Angela was part of a select group of Bay Area pastry chefs who traveled to Tain L'Hermitage, France for classes at L'Ecole Valrhona and tours of the premier chocolate maker's factory and headquarters in 2016. In 2012 Angela was featured in StarChefs online industry publication and appeared at the top of the 2017 OpenTable list of San Francisco chefs to watch.
Angela has been lauded for her gingerbread showpieces and now serves as faculty advisor of the Greystone showpiece club where students plan and execute sculptures in the many mediums the baking and pastry industry has to offer.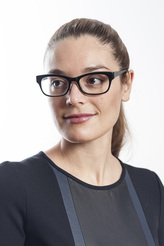 Melissa Woolford, Founder and Director, Museum of Architecture. Melissa is the Founder and Director of the Museum of Architecture which she started in 2006 to help architects be more entrepreneurial and help the public better engage with architecture. Melissa has created projects such as The Gingerbread City, Sandcastles, and has initiated innovative programmes such as MoA Directors and Associates Club to share best practice in the industry. She has lectured on new business strategies for the built environment at institutions including: Harvard GSD, UCL, and the Architectural Association. Melissa has a Masters in Architecture from Pratt Institute and a BA architecture from the University of Massachusetts. She worked as an architectural designer for Zaha Hadid Architects from 2006-2009. Melissa is also the Founder and Director of Nous Collaborative, an agency that specialises in bringing architecture and the creative industries together with brands. Her clients include the Wild Turkey Bourbon, Dove, Ocean Spray, and the Delfina Foundation.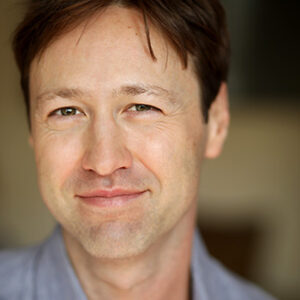 Filmmaker Russell Brown's body of work includes five narrative features, two full-length documentaries, and a number of well-regarded narrative and documentary shorts. His feature films have opened theatrically in select cities to favorable reviews after playing at more than 150 festivals around the world. Brown's work has garnered national and international awards for directing, writing, acting and editing. His diverse filmography includes Loren & Rose, Search Engines, The Blue Tooth Virgin, Annie and the Gypsy, Karen Black: On Acting, Conversation with a Cigarette, Mama Laura's Boys, The 44 Scarves of Liza Minnelli, Above the Arroyo: A Dream of the Stairs of Los Angeles, Reality USA, and The Kaleidoscope Guy at the Market. Russell is a member of the Writer's Guild of America and is a Film Independent Producing Fellow. His films are held as part of the collection at the UCLA Film and Television archive.
Brown serves as the Vice-chair at the MaddocksBrown Foundation, where he has spearheaded collaborations with the LA Philharmonic, the USC School of Poetry, Harvard-Westlake High School and the Da Camera Society. The Foundation focuses on higher education, the environment, the arts, human wellness, and animal welfare including Love On 4 Paws through which Russell provided support to hospital patients across Los Angeles as a certified animal therapist. He was awarded a commendation from the City of Los Angeles for his work with the Boys and Girls Club of Venice.
As Founder and Board Chair of FORT: LA, Russell brings a lifelong passion for celebrating the city of Los Angeles and its many diverse communities and cultures.