California Preservation Awards Sponsorship
To learn about CPF's sponsorship opportunities, including how you can sponsor this page, click here or email us.
The 2023 Design Awards Event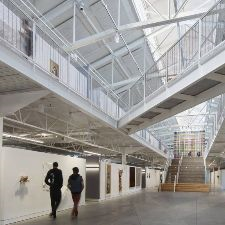 For 2023, we're celebrating 16 award winning projects at the historic Fort Mason Center for the Arts & Culture in the Cowell Theatre, preceded by a special social event in the stunning Design Award-winning Pier 2 Atrium.
We're celebrating four years of the Preservation Design Awards at this special opportunity for winning teams and conference-goers. Wines will be split into six groups, tied to winning projects from all four years. There will be some surprises, a silent auction, and food and drink served.
8th & Broadway
Project Lead or Principal First Name
Shawn Bleet – ODAA architecture & design
Client or Owner
Dimitri Bonnis – Bonnis Properties Cal Inc.
Project Lead
Robert Fabijaniak – ODAA
Contractor
Moshe Librush – MDM Builders
Consulting Engineer
Russell Holland – Russell Holland Engineering
Consulting Engineer
John Younghusband – YCI Building Compliance Solutions
8th & Broadway
8th & Broadway is a winner for the 2023 Preservation Design Award for Restoration. Award recipients are selected by a jury of top professionals in the fields of architecture, engineering, planning, and history, as well as renowned architecture critics and journalists. Tickets and sponsorship options are available at californiapreservation.org/programs/awards/.
About 8th & Broadway
The 10-story Merritt Building was completed in 1915 as a monument to Hulett C. Merritt's family at the corner of 8th St and Broadway after a 23-story "skyscraper" proposal was squashed by City Council.  All exterior, floor and wall surfaces were constructed with white Colorado Mule marble, the same as the Lincoln Memorial, inside and out making it the tallest building in the world at the time with such treatment.
The building is part of the revitalization of Historic Broadway as the center of Los Angeles with the likes of many international retail, such as Apple & Nike, and restaurant brands setting roots.  The exterior has been restored to its original design intent that was drastically altered in the 60's by California Home Savings & Loan Bank.  Select areas of historic interiors have been restored while others are being modernized to support Creative Office culture.
A beautiful roof deck and Fitness Center have been added as amenities.
About CPF and the Awards
The California Preservation Awards are a statewide hallmark, showcasing the best in historic preservation. The awards ceremony includes the presentation of the Preservation Design Awards and the President's Awards, bringing together hundreds of people each year to share and celebrate excellence in preservation.
The California Preservation Foundation (CPF), a 501c3 nonprofit, was incorporated in 1978. We now support a national network of more than 30,000 members and supporters. Click here to learn how you can become a member.