The California Preservation Awards are a statewide hallmark, recognizing excellence in historic preservation. The Awards ceremony includes the presentation of the Preservation Design Awards and the President's Awards, bringing together hundreds of people each year to share and celebrate. For the first time, the California Preservation Awards and President's Awards ceremony will be held online on October 21, 2021, as part of a month-long celebration of history and design.
The California Preservation Foundation is a network of more than 20,000 members and supporters with participants from 48 states and 13 countries, who work to protect our irreplaceable architectural and cultural heritage. We are excited to announce an expanded format for the Awards throughout October. All of the award programs will be open to the public via Zoom and Facebook LIVE, further expanding the audience and creating larger impacts in the community.
Sponsors help fund our work throughout the year and receive significant visibility on our Preservation Awards online channels.
Benefits of Sponsorship
You may download the sponsorship brochure here or view the breakdown of sponsor benefits by levels. All sponsors receive exposure throughout the Design Awards program, which will reach thousands through our online channels. See below for new benefits being introduced this year.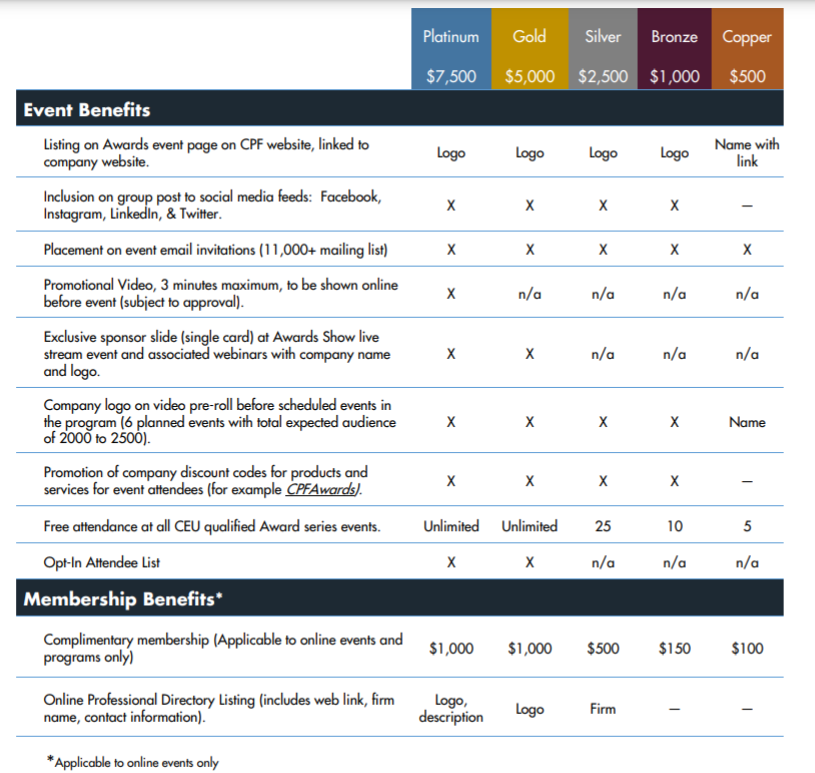 View and download a sponsorship brochure here or make an immediate, secure commitment online using the form below. For more information call Chris Madrid French at (415) 495-0349×202 or email chris@californiapreservation.org.
To secure sponsorship directly, you may also call CPF at 415-495-0349 or email cpf@californiapreservation.org.
Secure payment processing may take up to 1 minute. To ensure complete processing, please do not navigate away from this page until you receive a success message. For questions, call CPF at 415-495-0349 or email cpf@californiapreservation.org.