California Preservation Awards Sponsorship
To learn about CPF's sponsorship opportunities, including how you can sponsor this page, click here or email us.
The 2023 Design Awards Event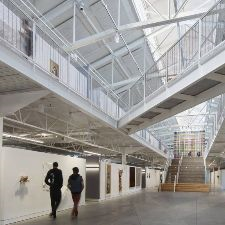 For 2023, we're celebrating 16 award winning projects at the historic Fort Mason Center for the Arts & Culture in the Cowell Theatre, preceded by a special social event in the stunning Design Award-winning Pier 2 Atrium.
We're celebrating four years of the Preservation Design Awards at this special opportunity for winning teams and conference-goers. Wines will be split into six groups, tied to winning projects from all four years. There will be some surprises, a silent auction, and food and drink served.
Bridgeport Covered Bridge Team
Architect
Gil de la Pena – CA State Parks (Design Phase)
Shelly Dildey – CA State Parks (Construction phase)
Structural Engineer
Larry Jones, S.E. – Buehler, Inc.
Doug Gadow, S.E. – Linchpin (Historic)
Michael Krakower, S.E. – Krakower & Associates (Historic)
Civil Engineer
Andy Sutter – CA State Parks
Project Historian
Michael Jasinski – CA State Parks
Construction Manager
Rod Tuttle – CA State Parks
Project Manager
Mike Brown – CA State Parks
Master Bridgewright
Tim Andrews – Barns & Bridges of New England
Consulting Engineer
Ted Peet, PE – Smith-Emery Laboratories, Inc.
Historic Preservation Consultant
Ean Frank – Spectra Company
Specialty Sub-Contractor(s)
William Scott – Syblon Reid
Additional Participant(s)
Larry Collins – FCP
Frank Towse – Skyline Scaffoling Inc
Bill Caswell  – President of the National Society for the Preservation of Covered Bridges
Bridgeport Covered Bridge
Bridgeport Covered Bridge is a winner for the 2023 Preservation Design Award for Craftsmanship/Preservation Technology. Award recipients are selected by a jury of top professionals in the fields of architecture, engineering, planning, and history, as well as renowned architecture critics and journalists. Tickets and sponsorship options are available at californiapreservation.org/programs/awards/.
About Bridgeport Covered Bridge
The Bridgeport Covered Bridge, located in South Yuba River State Park, is the longest remaining wooden covered bridge in the world.  It was built in 1862 by David Wood after the original bridge washed away the year before.
The design combines a Howe Truss with a Burr Arch.  The connection of the Burr Arch spanning from concrete buttresses on either side of the river to the Howe Truss, created a symbiotic structural relationship that allowed for a longer, more stable span.
The wood had deteriorated over time with significant damage due to heavy flooding both in 1971 and 1997.  It was closed to visitors in 2011 due to the compromised structural integrity.
The project included raising the bridge on new abutments to mitigate flood damage, in situ replacement of deteriorated wood in kind.  Existing iron and steel hardware was restored while new hidden moment frames and steel stiffeners were added.
About CPF and the Awards
The California Preservation Awards are a statewide hallmark, showcasing the best in historic preservation. The awards ceremony includes the presentation of the Preservation Design Awards and the President's Awards, bringing together hundreds of people each year to share and celebrate excellence in preservation.
The California Preservation Foundation (CPF), a 501c3 nonprofit, was incorporated in 1978. We now support a national network of more than 30,000 members and supporters. Click here to learn how you can become a member.