California Preservation Awards Sponsorship
To learn about CPF's sponsorship opportunities, including how you can sponsor this page, click here or email us.
The 2023 Design Awards Event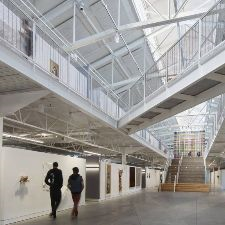 For 2023, we're celebrating 16 award winning projects at the historic Fort Mason Center for the Arts & Culture in the Cowell Theatre, preceded by a special social event in the stunning Design Award-winning Pier 2 Atrium.
We're celebrating four years of the Preservation Design Awards at this special opportunity for winning teams and conference-goers. Wines will be split into six groups, tied to winning projects from all four years. There will be some surprises, a silent auction, and food and drink served.
MacLac Building D  –  Rebirth of An Historic Paint Factory
Project Lead
Kent Royle – Marcy Wong Donn Logan Architects
Architect
Peter Logan – PLAD (Peter Logan Architect and Design)
Architect
Marcy Wong – Marcy Wong Donn Logan Architects
Owner / Client
Adrian Comstock – Comstock Realty Partners
Structural Engineer
Gregory Luth – Gregory P. Luth & Associates, Inc. / GPLA
Lighting Designer
Darrell Hawthorne – Architecture & Light
Mechanical Electrical Engineer
Mazen Tawasha – Bayside Mechanical Inc.
LEED Gold Certification
Michael Hummel – Stok
LEED Gold Certification
Josiah Ives – Stok
Historic Preservation Consultant
Mark Hulbert – Mark Hulbert Preservation Architecture
Contractor
Rod Heisler – RHC Construction
Metal Fabrication Sub-Contractor
Martin Solorzano – Solher Iron, Inc
Electrical Subcontractor
Jared McKinney – Helix Electrical
Electrical Subcontractor
Danny Wurz – Helix Electrical
Plumbing Subcontractor
Damien Madden – Madden Plumbing + Fire Sprinklers
Project Photographer
Billy Hustace – Billy Hustace Photography
Project Photographer
Marcy Wong – Marcy Wong Donn Logan Architects
MacLac Building D  –  Rebirth of An Historic Paint Factory
MacLac Building D  –  Rebirth of An Historic Paint Factory is a winner for the 2023 Preservation Design Award for Rehabilitation. Award recipients are selected by a jury of top professionals in the fields of architecture, engineering, planning, and history, as well as renowned architecture critics and journalists. Tickets and sponsorship options are available at californiapreservation.org/programs/awards/.
About MacLac Building D  –  Rebirth of An Historic Paint Factory
Prior to its current incarnation, the building was part of a paint and lacquer factory owned since the mid-20th Century by MacLac, a name combining part of the previous owner's name and the word "lacquer". This edifice was known as "Building D" of the factory. Building D's architectural rejuvenation accentuates the symmetric geometry of its historically industrial heritage by
Introducing abundant daylight through ridge skylights extending the length of the structure,
Providing architectural lighting designed to highlight the historic brick walls and steel roof trusses of the original building,
Incorporating crucial seismic upgrading with structural diaphragms that double as an architectural level that creates usable floor area with exceptional vantage points of the building volume.
The resulting design is ideal for uses in accordance with the City's zoning, including show room, restaurant, office, retail, light manufacturing, arts-related and design-related businesses.
About CPF and the Awards
The California Preservation Awards are a statewide hallmark, showcasing the best in historic preservation. The awards ceremony includes the presentation of the Preservation Design Awards and the President's Awards, bringing together hundreds of people each year to share and celebrate excellence in preservation.
The California Preservation Foundation (CPF), a 501c3 nonprofit, was incorporated in 1978. We now support a national network of more than 30,000 members and supporters. Click here to learn how you can become a member.