California Preservation Awards Sponsorship
To learn about CPF's sponsorship opportunities, including how you can sponsor this page, click here or email us.
The 2023 Design Awards Event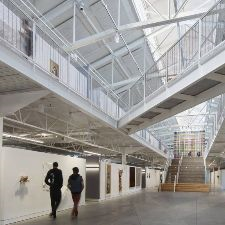 For 2023, we're celebrating 16 award winning projects at the historic Fort Mason Center for the Arts & Culture in the Cowell Theatre, preceded by a special social event in the stunning Design Award-winning Pier 2 Atrium.
We're celebrating four years of the Preservation Design Awards at this special opportunity for winning teams and conference-goers. Wines will be split into six groups, tied to winning projects from all four years. There will be some surprises, a silent auction, and food and drink served.
Rancho San Andrés Castro Adobe
Entrant
Jo Kenny – Friends of Santa Cruz State Park
Client or Owner
Chris Spohrer – California State Parks
Project Lead
Jessica Kusz – Friends of Santa Cruz State Parks
Owner/Client
California State Parks  – California Department of Parks and Recreation
Architect
Brett Brenkwitz – Franks & Brenkwitz
Preservation Architect
Tony Crsoby – Architectural Conservation LLC
Lead Engineer
Fred Webster – Fred Webster Associates, Inc. Structural Engineers
Consulting Engineer
Scott Haggblade – Donald C.  Urfer & Assoc.Inc
Contractor
Brian Bogaard – Brian Bogaard Construction
Specialty Sub-Contractor(s)-Plaster
Chris Ingram – Ingram Lath and Plaster
Specialty Sub-Contractor(s)-Paint conservation
Samantha Emmanuel – Samantha Emmanuel/Conservator Wall Painting Specialist
Specialty Sub-Contractor(s)-Lift
Nationwide Lifts – Nationwide Lifts
Specialty Sub-Contractor(s)-Fire Supression
Ron Rollins – Rollins Fire Sprinklers, Inc.
Rancho San Andrés Castro Adobe
Rancho San Andrés Castro Adobe is a winner for the 2023 Preservation Design Award for Restoration. Award recipients are selected by a jury of top professionals in the fields of architecture, engineering, planning, and history, as well as renowned architecture critics and journalists. Tickets and sponsorship options are available at californiapreservation.org/programs/awards/.
About Rancho San Andrés Castro Adobe
In 2007, Friends of Santa Cruz State Parks (Friends) began the years long effort to restore the Rancho San Andrés Castro Adobe in collaboration with California State Parks. Over the next 15 years, Friends, State Parks, and the community came together to repair and restore the historic adobe inside and out. Work included earthquake repairs using hundreds of 85-pound adobe bricks made on site; seismic stabilization and a new roof; strengthening the second story with the insertion of an innovative steel beam; installation of a lift to guarantee universal access to the second floor; the addition of electrical and fire suppression systems; restoration of the historic cocina (kitchen) and the Potter-Church Garden; procurement of historic furnishings and completion of interpretive planning.  The restoration was completed in 2022. The Castro Adobe will be the newest State Historic Park in California.
About CPF and the Awards
The California Preservation Awards are a statewide hallmark, showcasing the best in historic preservation. The awards ceremony includes the presentation of the Preservation Design Awards and the President's Awards, bringing together hundreds of people each year to share and celebrate excellence in preservation.
The California Preservation Foundation (CPF), a 501c3 nonprofit, was incorporated in 1978. We now support a national network of more than 30,000 members and supporters. Click here to learn how you can become a member.