California Preservation Awards Sponsorship
To learn about CPF's sponsorship opportunities, including how you can sponsor this page, click here or email us.
The 2023 Design Awards Event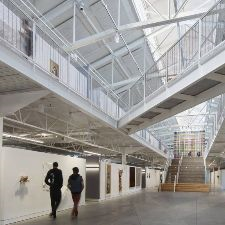 For 2023, we're celebrating 16 award winning projects at the historic Fort Mason Center for the Arts & Culture in the Cowell Theatre, preceded by a special social event in the stunning Design Award-winning Pier 2 Atrium.
We're celebrating four years of the Preservation Design Awards at this special opportunity for winning teams and conference-goers. Wines will be split into six groups, tied to winning projects from all four years. There will be some surprises, a silent auction, and food and drink served.
Rooted in Richmond
Project Lead
Jonathan Haeber – City of Richmond
Planning Staff Lead
Jonelyn Whales – City of Richmond
Client or Owner
Lina Velasco – City of Richmond
Historic Preservation Commission Chair
Joann Pavlinec – City of Richmond
App Developer
Daniyal Syed – Action Data Systems
Historic Preservation Commissioner
Caitlin (Harvey) Hibma – City of Richmond
Historic Preservation Commissioner
Michael Hibma – City of Richmond
Historic Preservation Commissioner
Fatema Crane – City of Richmond
Historic Preservation Commissioner
Linda Hemmila – City of Richmond
Historic Preservation Commissioner
Gretchen Stromberg – City of Richmond
Specialty / Sub-Contractor
Liam O'Donoghue – East Bay Yesterday
Museum / Archives Specialist
Victoria Stuhr – Richmond Museum of History & Culture
Museum / Archives Specialist
Evelyn Santos – Richmond Museum of History & Culture
Specialty / Sub-Contractor
Marc Robinson – Action Data Systems
Specialty / Sub-Contractor
Maria Leticia Oregon – RAP Center