California Preservation Awards Sponsorship
To learn about CPF's sponsorship opportunities, including how you can sponsor this page, click here or email us.
The 2023 Design Awards Event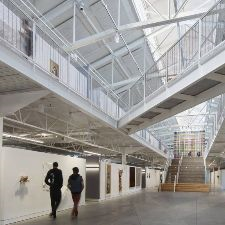 For 2023, we're celebrating 16 award winning projects at the historic Fort Mason Center for the Arts & Culture in the Cowell Theatre, preceded by a special social event in the stunning Design Award-winning Pier 2 Atrium.
We're celebrating four years of the Preservation Design Awards at this special opportunity for winning teams and conference-goers. Wines will be split into six groups, tied to winning projects from all four years. There will be some surprises, a silent auction, and food and drink served.
Tapscott Building Rehabilitation
Project Lead
Andrew Wolfram – TEF Design
Project Manager / Architect
Viral Vithalani – TEF Design
Project Designer
Robbie Wilcock – TEF Design (former employee)
Historic Preservation Architect (Report)
Christopher VerPlanck – VerPlanck Historic Preservation Consulting
Owner/Client
Kendra Marshall – Rabin Worldwide
Structural Engineer
Zack Kardon – Murphy Burr Company
Mechanical/Plumbing Engineer
Arthur Ingraffia – Acco
Electrical Engineer
Jared McKinney – Helix
Civil Engineer
Joseph Young – BKF Engineers
Building Envelope
Annie Lo – Walter P Moore
General Contractor
Micah Stevens – Alson Construction
Additional Participant(s)
Nick Boatright – Rainbow Waterproofing
Tapscott Building Rehabilitation
Tapscott Building Rehabilitation is a winner for the 2023 Preservation Design Award for Rehabilitation. Award recipients are selected by a jury of top professionals in the fields of architecture, engineering, planning, and history, as well as renowned architecture critics and journalists. Tickets and sponsorship options are available at californiapreservation.org/programs/awards/.
About Tapscott Building Rehabilitation
Comprising the renovation of a four-story, 39,000 sf. steel and concrete structure, and the addition of a 5,000 sf. penthouse, this project revitalizes the Tapscott Building's original purpose for contemporary use.  It also restores the building's 1923 character and the excitement of that era in Oakland's commercial development by anchoring the rebirth of a blighted block as a new creative destination.
The project included a seismic upgrade, new utility and HVAC systems, and accessibility compliance.  Non-historic interior partitions and ceilings were removed to create an open canvas for incoming tenants.  Outside, graffiti was removed by hand and the building's brick, sheet metal and terra cotta exterior, Beaux Arts parapet, spandrels and cornice, and historic advertising signage have been restored, and graffiti, removed by hand. Missing terra cotta elements were replicated in GFRC, using historic molds from detailed facade surveys and mock-ups, and incompatible non-historic added features replaced with compatible new elements.
About CPF and the Awards
The California Preservation Awards are a statewide hallmark, showcasing the best in historic preservation. The awards ceremony includes the presentation of the Preservation Design Awards and the President's Awards, bringing together hundreds of people each year to share and celebrate excellence in preservation.
The California Preservation Foundation (CPF), a 501c3 nonprofit, was incorporated in 1978. We now support a national network of more than 30,000 members and supporters. Click here to learn how you can become a member.