California Preservation Awards Sponsorship
To learn about CPF's sponsorship opportunities, including how you can sponsor this page, click here or email us.
The 2023 Design Awards Event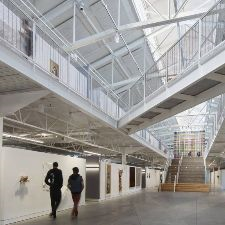 For 2023, we're celebrating 16 award winning projects at the historic Fort Mason Center for the Arts & Culture in the Cowell Theatre, preceded by a special social event in the stunning Design Award-winning Pier 2 Atrium.
We're celebrating four years of the Preservation Design Awards at this special opportunity for winning teams and conference-goers. Wines will be split into six groups, tied to winning projects from all four years. There will be some surprises, a silent auction, and food and drink served.
Washington View Apartments
Owner/Developer
Fariba Atighehchi – Western Pacific Housing, LLC
Executive Architect
Jeff Zook – Coastal Architects
Preservation Achitect
John Lesak – Page & Turnbull
Contractor
Steve Parker – Shangri La Construction
Preservation Specialty Contractor
Troy Parry – Oak Hollow Restoration
Stained Glass Repair / Restoration
Tom Rigdon – The Hyland Studio
Historic Preservation Consultant
Margarita Jerabek-Bray – Environmental Science Associates
Preservation Structural Engineer
David Cocke – Structural Focus
Structural Engineer
Ramon Garcia – RSGE Inc.
Building Expeditor
Emiko Isa – Kimerlina Whettam
Traffic Consultant
Chris Colovas – TPR Traffic Solutions
Planning Consultant/Expeditor
James Santamaria – Santamaria Group
Washington View Apartments
Washington View Apartments is a winner for the 2023 Preservation Design Award for Reconstruction. Award recipients are selected by a jury of top professionals in the fields of architecture, engineering, planning, and history, as well as renowned architecture critics and journalists. Tickets and sponsorship options are available at californiapreservation.org/programs/awards/.
About Washington View Apartments
The former Pierce Brothers Mortuary, LA Cultural Heritage Monument #574, has been transformed into affordable senior housing. Renamed Washington View, the complex includes four new buildings (91 units), the rehabilitated mortuary (18 units), reconfigured garage (11 units), and the courtyard.
When the project began, the Spanish Colonial revival-style mortuary was a partial ruin. Two fires occurred prior to construction resulting in immense damage from the fire, water, and exposure to the elements. The front of the building, with the 1933 small chapel (now a studio apartment), arcade, and 1923 double-height large chapel (now community space), was saved and rehabilitated; the historic bell tower and red tile roof were rebuilt. The stained-glass windows were repaired, restored, or reconstructed. The mortuary and converted garage received a seismic upgrade and, with the courtyard, are ADA compliant.
About CPF and the Awards
The California Preservation Awards are a statewide hallmark, showcasing the best in historic preservation. The awards ceremony includes the presentation of the Preservation Design Awards and the President's Awards, bringing together hundreds of people each year to share and celebrate excellence in preservation.
The California Preservation Foundation (CPF), a 501c3 nonprofit, was incorporated in 1978. We now support a national network of more than 30,000 members and supporters. Click here to learn how you can become a member.