Doors Open California is a signature statewide event that draws close to 1,500 participants who will get rare & special access to amazing architecture and hidden histories in one weekend. As a sponsor, you will be highlighted as a supporter of the largest statewide celebration of historic places on September 9th and 10th, 2023. Walking tours, hidden vaults of local museums, inaccessible areas of historic buildings, or enlightening stories – it's a chance to experience history first-hand. Over 65 amazing places in California will be highlighted. 
Our Sponsors are invited to join us in supporting our second-ever Doors Open California event, where more than 70 local, nonprofit, government, and enterprise partners will showcase sites in more than 43 distinct cities in all corners of California. 
2023 Doors Open Sponsors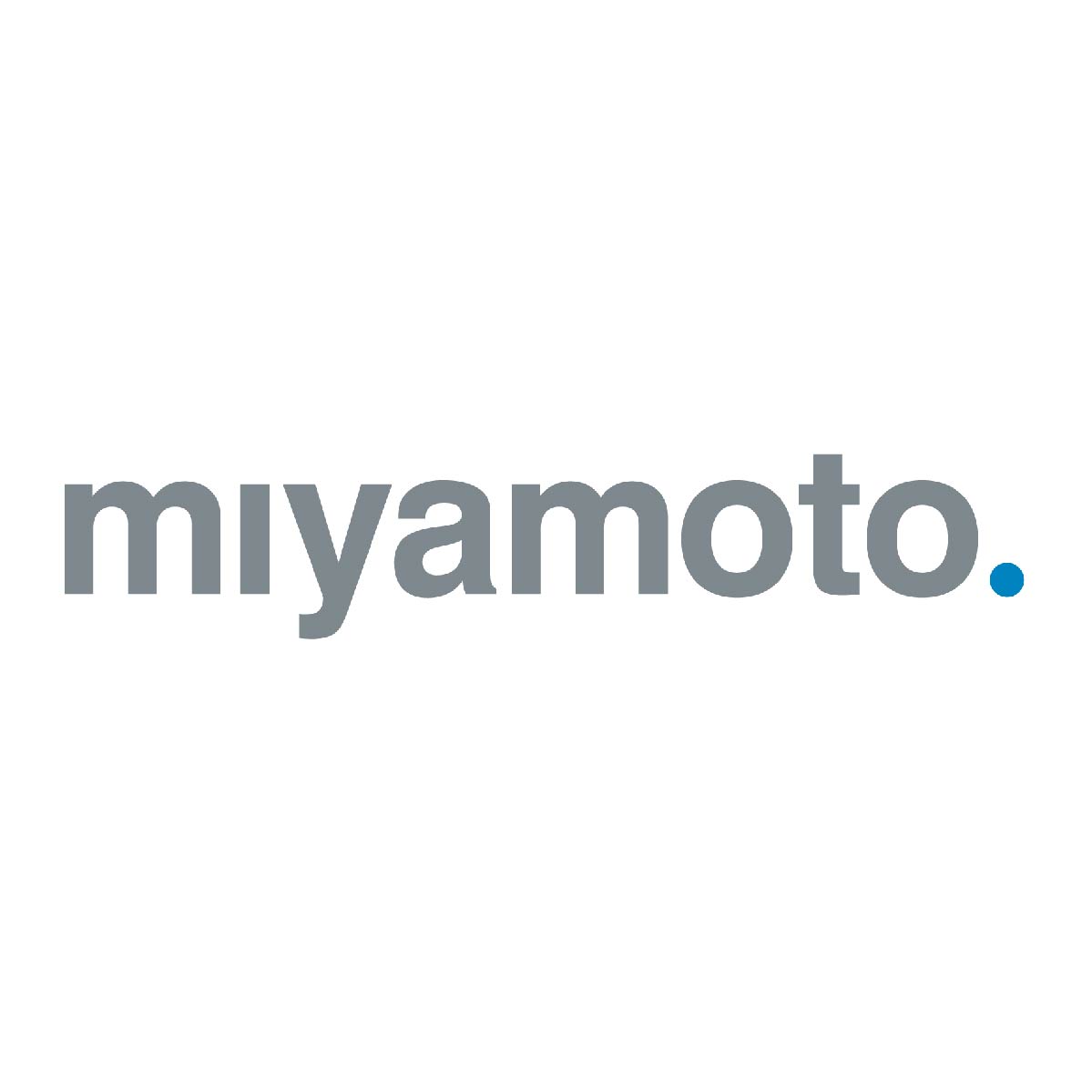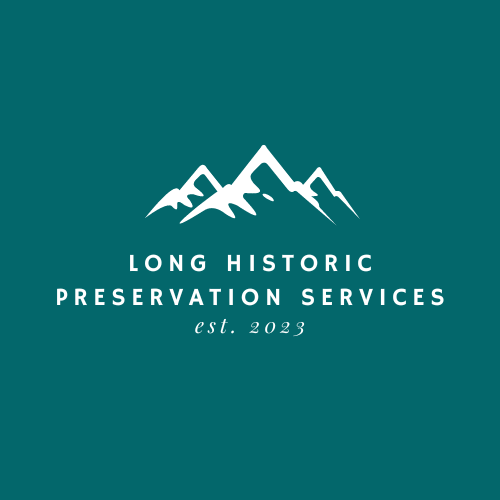 Conrad Schmitt Studios, Inc.
Long Historic Preservation Services
Why Sponsor?
Positive Good, Supporting Local Economic Development – Doors Open events will lead to economic activity in the historic places of 43 cities across California
Impact: Measurable and quantifiable achievements

6000+ live event attendees in 2022, including more than 600 Doors Open participants across the state (expected 1500+ Doors Open participants for 2023)
Support a leader in preservation education with a network of 30,000+ partners and supporters across the country – plus a growing international audience
35,000+ viewers of our programs in 2022, including

24,500 YouTube Views
3307 session registrations
1912 Facebook views
9492 Linked-In views

Engages participants who are actively interested in history, preservation, economic development, and heritage tourism – including families and participants from all age groups and backgrounds.  
Benefits of Sponsorship
Benefits of your support include…
Recognition and prominent placement of company name and logo on the CPF website, the Doors Open web app, and the Doors Open page, which together receive over 300,000 page views per year.
Listing in CPF's online Professional Directory.
Firm's name in all email blasts related to Doors Open California (over 12,000 per mailing) with a link to their website.
Complimentary passes to Doors Open California – Reward your staff, clients, or associates with rare access to special places for exclusive experiences available only once a year.
One-year CPF membership with annual benefits available for you and your staff
You have the option of hosting your own exclusive and highlighted Doors Open event – get premium placement on Doors Open itineraries, which are sent to all event participants.
View and download a sponsorship brochure here or make an immediate, secure commitment online using the form below. For more information call Jon Haeber at (415) 495-0349×201 or email cpf@californiapreservation.org.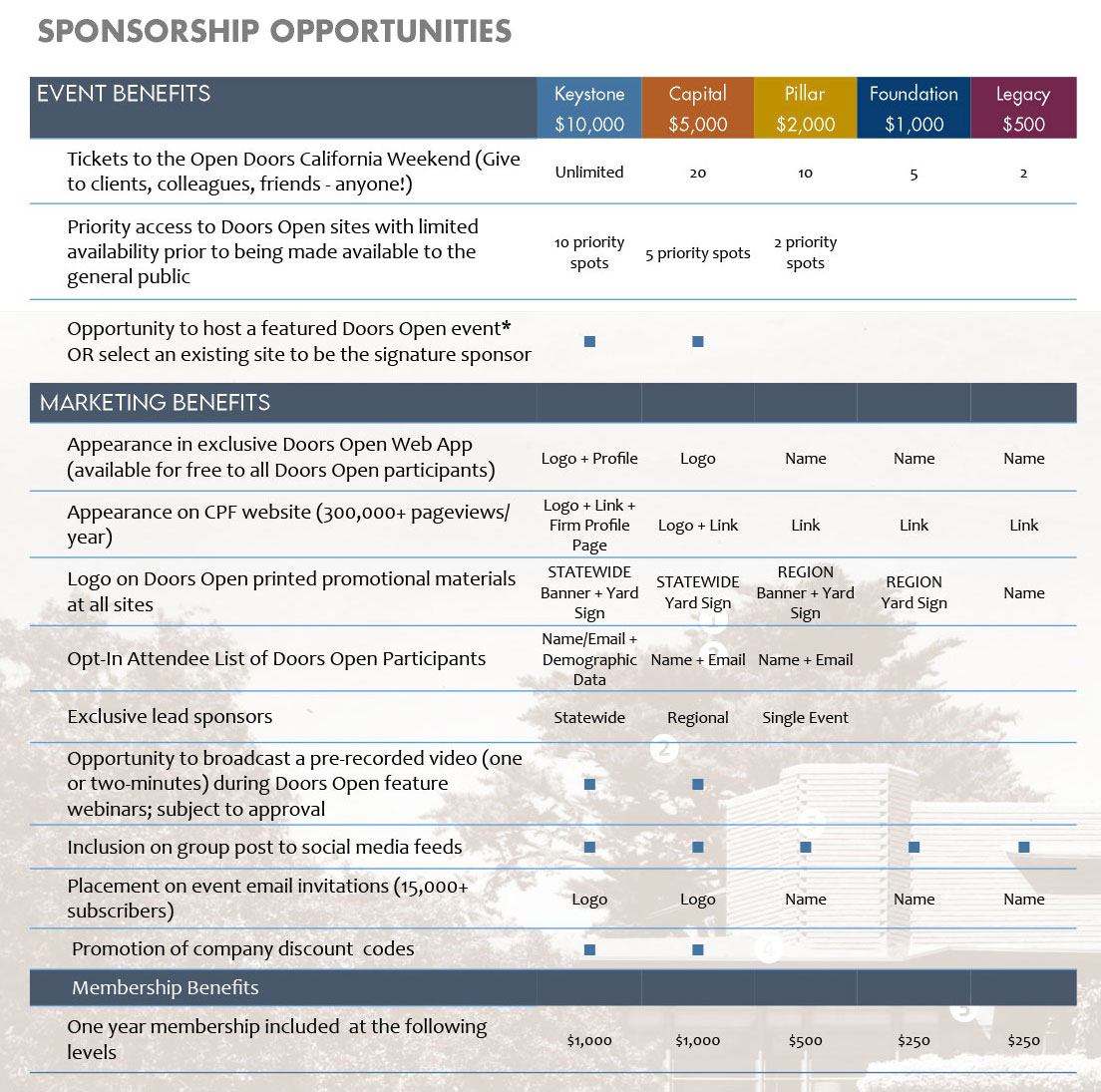 To secure sponsorship directly, you may also call CPF at 415-495-0349 or email cpf@californiapreservation.org.
Secure payment processing may take up to 1 minute. To ensure complete processing, please do not navigate away from this page until you receive a success message. For questions, call CPF at 415-495-0349 or email cpf@californiapreservation.org.