Lunchinar: Digital Site Recon–Secrets of Online Mapping Tools
When you register for this free webinar, you can also select an option to join our paid program Pixels, Clouds, Points, and Beyond: Survey & Doc Seminar, scheduled for 9 am to noon on Feb. 11, which is eligible for AIA and AICP CEU credits. 
Let's Dig Into Documentation! This, free and casual - yet deep-digging - documentation brown bag lunchinar will look at some of the tools used by HABS photographer, Stephen Schafer for documentation and site reconnaissance. CPF's own Jon Haeber will also review some of the common tools for online mapping and historical research. Some of the topics our dynamic duo will address include:
How can freely available mapping tools be used for good and not evil
The throwdown: Google Maps vs Google Earth – what makes them different and what are the strengths and weaknesses of each
What about other open source mapping tools and possible applications in the historic preservation advocacy and consulting world
Did you know about Bing Maps and its recently re-released Birds Eye imagery?
See how you can "turn back the clock" and "see when those vinyl windows really were"
We'll close with a digital "salon," where attendees will be given the reign to share some of their own favorite tools online.
About the Speakers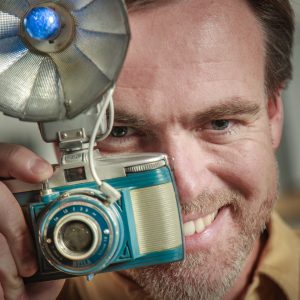 Stephen Schafer, AKA: Schaf (rhymes with chafe), is a professional photographer with a preservation distraction. He uses online maps and aerial surveys in all aspects of his documentation from pre-project scouting to final photo keymaps.
His 34-year career behind the camera spans all aspects of advertising, portrait and commercial photography but he now specializes only in architectural pho¬tography and HABS, HAER, HALS surveys for the preservation environmental complex. He opened his photography studio in downtown Ventura but his pho¬tography has now taken him to over 20 countries worldwide and most of the United States, completing over one hundred large format documentations to date. Many of these archival photo-documents have been transmitted to the Historic American Buildings Survey, the Historic American Landscapes Survey and the Historic American Engineering Record collections at the Library of Congress. His client list includes an entire alphabet of acronyms like: NPR, UCSF, UCSC, UCLA, the GRI, the LAC, SFH, NTHP, SCE, PG&E, SDG&E, EBMUD, GSA, USGS, NPS, HDP, ARG, HRG, GPA, ICF, ASM, HHP, KSM, PGA, BCR, P&T, TEF, SWCA, LSA, URS, DLR, ECORP, AECOM, NASA, USGS, and SurveyLA.
In 1996 he and his wife Sherry began a seemingly endless rehabilitation of a shaky little 1881 folk Victorian farmhouse, it was during this project that he was afflicted with the "Preservation Bug," which he probably contracted from a stray redwood splinter. Schaf recently completed photography for the book: Preserving Los Angeles with author Ken Bern-stein, (2021 Angel City Press), he is a board member of the San Buenaventura Conservancy for Preservation and an appointee to the Ventura County Cultural Heritage Board (CLG). He and Sherry are seed funders for CPF's new National Register Diversity Project developed to list significant sites in California's underserved communities in the National Register of Historic Places.
.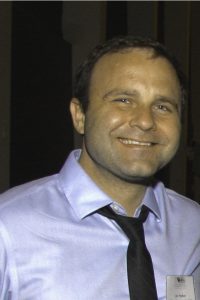 Jon Haeber, Field Services Director, California Preservation Foundation, manages Education and Technical Assistance programs, including the Conference, Higher Education, and General Education committees. A former copywriter and Managing Editor in the marketing field for over a decade, he attended graduate school hoping to turn his lifelong love of urban history and architecture into a career at a no-profit organization. Jon is a published author, architectural photographer, and urban historian. He has an M.A. in US History from UMass Amherst, B.A. degrees in English and Geography from UC Berkeley, and is a graduate of ARCUS, a professional fellowship in Historic Preservation Leadership. Jon is on the Board of Trustees for a nonprofit statewide scuba diving organization, serves on the City of Richmond's Historic Preservation Commission, is a member of the AIA San Francisco Historic Resources and National Council on Public History Conference committees, and spends his free time volunteering at the Golden Gate National Recreation Area.