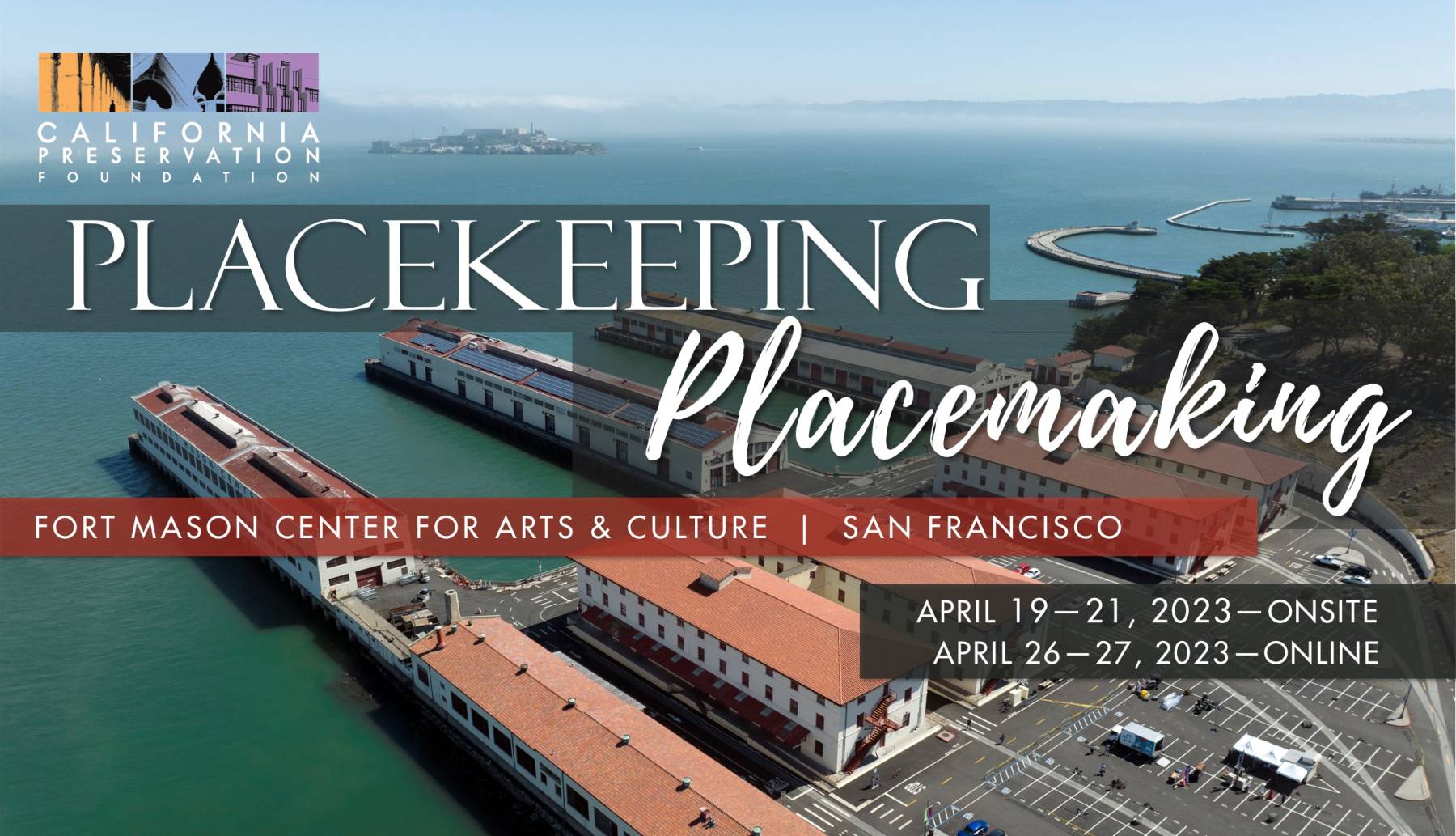 Interested in Becoming a Conference Sponsor?
Click Here for Benefits & Online Signup
Click Here to Download the Brochure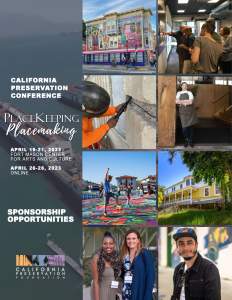 Placekeeping/Placemaking
2023 California Preservation Conference
Fort Mason Center for Arts & Culture, San Francisco, Calif. | April 19-21, 2023
Additional Programs Online | April 26-27, 2023
Placemaking/Placekeeping, Fort Mason, San Francisco (April 19-21, 2023) – Training programs focused on six key values in a multidisciplinary training series, both at Fort Mason and offsite for field study.
Placemaking/Placekeeping, Online Programming (April 26-27, 2023) – Join live online programs to receive CEUs and fulfill CLG training requirements.
Registration is now open! Spaces are limited. 
Registration Options
There are three options for registration, depending on what you want to attend:
General Conference Ticket. For sessions and educational programs (does not include special ticketed events)
Additional Tickets A La Carte. Already registered? Choose the special events you'd like to attend. 
Online Only Registration – This option only includes the live broadcasts and recordings of conference programs on April 20-21 and April 26-27, 2023. Access the recordings and resources as well, and includes access to the official conference app. 
Why attend? 
Obtain Continuing Education Units available for all educational programs at no additional cost (CEUs not available for Doors Open events)
Network with friends and colleagues across the country and internationally in our unique online, interactive events.
Keep up with the latest research and scholarship in historic preservation, city planning, equity issues, design, archaeology, and architecture.
Gain unique and unparalleled access to California's hidden histories and masterworks of design.
A program that fits flexibly with your schedule. Watch the recordings later!
Conference Pricing & Ticket Options
Conference Pricing & Ticket Options

General Registration Options

PACKAGE DEAL
Includes Regular Registration, plus the following ticketed events: Opening Reception, California Preservation Awards Reception, Closing Reception. Save 20% by purchasing the package.
CPF Member
$570
Non-Member
$590
REGULAR REGISTRATION
Includes Plenary Session, Educational Sessions, all online conference sessions, and California Preservation Awards Ceremony. Does not include tours or special events listed below
CPF Member
$350
Non-Member
$380
Sponsor or Patron/Benefactor Member (number of complimentary registrations based on level)
$0
Speaker
$75
Student (Current student ID Required with registration)
$75
ONE-DAY AND ONLINE ONLY PROGRAMS
CPF Members receive a $20 discount on the pricing below
Thursday
$190
Thursday – Awards package (includes Awards reception and dinner)
$295
Friday
$190
Online conference ONLY (does not include access to Fort Mason, but includes live broadcasts and online programming)
Member
$150
Non-member
$175
Student (Current student ID Required with registration)
Local Government, Non-profit group rate (group of 2-10)
$350

TICKETED EVENTS

(If you would like to register for these events on their own, simply select the "Tour and Workshop Tickets Only" option on the registration form)

STUDY TOURS
Cultural Districts Mobile Workshop
$75
Angel Island Mobile Workshop (transportation & Lunch incl.)
$95
Tunnel Tops and Battery Bluff
$45
Pier 70 Tour
Tour: Bones Under the Park – San Francisco's Forgotten City Cemetery
$75
$55
SPECIAL EVENTS
Opening Reception at the Maritime Museum at Aquatic Park
$125
California Preservation Awards at Cowell Theater
$175
Closing Reception at Fort Mason Off the Grid
$60
WORKSHOPS
Tech Tools – Conservation of Historic Concrete and Terrazzo (AIA HSW units included)
$125 (a la carte) / $75 (if attending conference)
Tech Tools – The California and Federal Historic Tax Credits: Historic Tax Credit Equity as a Financing Tool
$125 (a la carte) / $75 (if attending conference)
Conference Agenda & Schedule
Programs include over 40 sessions, tours, and special events. This year, the events include:
Opening Reception (4/19) at the Maritime Museum (historic bathouse at Aquatic Park)
President's Circle Reception (4/20) – an exclusive "thank you" reception for our major donors and sponsors, held at historic Fort Mason.
The 2023 California Preservation Awards Reception and Ceremony (4/20) at the Cowell Theater and Pier 2 at Fort Mason.
Closing Reception (4/21) at the Fort Mason Store House and Off the Grid.
Exhibitors hall and registration area in the historic Fort Mason Store House.
Full Conference Agenda
The agenda below is a preliminary schedule. Subject to change.
Plenary Session and Keynote Address
Plenary Session – Reimagining and Rethinking Placemaking and Placekeeping – Visions for the Future
Thursday, April 20th, 9:00 – 10:30 AM | Free and Open to the Public – First Come, First Served
The 2023 California Preservation Conference will delve deep into our current preservation practice. What can we learn from the world stage and the efforts of UNESCO? Finally, how can we reinvent our long-held notions of integrity and authenticity? This two-part examination will start with a plenary address followed by a panel discussion to engage our audience in the deep and important questions of Heritage Conservation in our modern era.
Keynote Speakers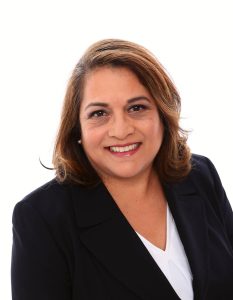 Julianne Polanco was appointed California's State Historic Preservation Officer in July of 2015. She served as a Commissioner and Chair of the California State Historical Resources Commission from 2005 to 2015. Ms. Polanco was the Director of Cultural Resources for Lend Lease Americas from 2006 to 2015. Ms. Polanco was the Acting Federal Preservation Officer and Senior Preservation Specialist at the Presidio Trust from 1999 to 2006 and Assistant to the Vice President for programs at the World Monuments Fund from 1998 to 1999. Her professional work has also included serving as Advisor to the Chairman of California Integrated Waste Management Board and Special Assistant to the Secretary of the California Environmental Protection Agency. During her tenure at the California Department of Conservation, she held various staff positions in the Director's Office, Division of Recycling and Division of Mines and Geology. Ms. Polanco was a district staff member for Congressman Robert T. Matsui, specializing in labor, health care, veterans' affairs and the environment. Ms. Polanco has a Bachelor's of Science in Political Science/International Relations from the University of California at Santa Barbara and a Master's of Science in Historic Preservation from Columbia University.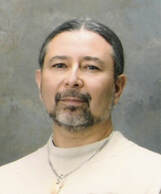 Gregg Castro, Ramaytush Ohlone, T'rowt'raahl Salinan, Rumsen, has been involved in preservation of his cultural heritage for nearly three decades, for both his late Mother's rumsien Ohlone heritage, and on his late Father's side, the since ended 'Salinan Nation Tribal Council' (serving two terms as Tribal Chair) and currently the non-profit organization, Salinan T'rowt'raahl. Gregg is a member of the Society for California Archaeology (SCA). Gregg is a Co-Facilitator for the annual California Indian Conference, a 30+ year gathering about California Indigenous heritage. Gregg is a writer and activist within the California indigenous community, on issues regarding cultural preservation, protection, education and traditional practices.
Plenary Speaker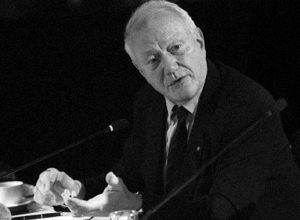 Francesco Bandarin is Assistant Director-General for Culture of the United Nations Educational, Scientific and Cultural Organization (UNESCO), and Professor of Urban Planning and Conservation at the University IUAV of Venice. From 2000 to 2010 he was Director of the UNESCO World Heritage Centre and Secretary of the World Heritage Convention. From 2010 to 2014 he served as Assistant Director-General of UNESCO for Culture. In October 2015 he was re-appointed in this position for an interim period. UNESCO aims "to contribute to peace and security by promoting collaboration among nations through education, science and culture in order to further universal respect for justice, for the rule of law and for the human rights and fundamental freedoms which are affirmed for the peoples of the world, without distinction of race, sex, language or religion, by the Charter of the United Nations". It pursues its objectives through major programs in education, natural sciences, social/human sciences, culture and communication/information.
Special Plenary Program
Confronting the Integrity Debate: New Ideas, Approaches and Case Studies
Thursday, April 20th, 10:30 – 12:00 PM at the Cowell Theatre and Broadcast Live

Join us as we take on this long-standing issue within heritage conservation, and how best to determine if a property does or does not retain "integrity." Challenge yourself and others to think creatively about how the preservation community can evolve and assess integrity considerations in new, innovative ways. Through case studies and experimental approaches currently underway, we will assess how well we are doing, and advancing larger efforts toward greater relevance, inclusivity and telling fuller stories about California's communities, places, and people.
Hotel Information and Discounted Rates for Conference Attendees
Comfort Inn by the Bay
Rates includes full American breakfast buffet daily from 6:30am-9:30am.
$159 1 Queen Bed Partial City View (2 People Max)
$159 2 XL Twin Beds No View (2 people Max)
$159 2 Queen Beds
To reserve rooms: Call 415.928.5000 and mention the group name to make your reservation
Email: olay.phom@snbhotels.com, mention the group name, room type and number of nights to make your reservation
Holiday Inn Express Hotel & Suites Fisherman's Wharf
Rates include breakfast
$189 King non-Smoking
$209 Two Queen Beds Non-Smoking
To reserve rooms: Call 1-888-501-7757 and mention the group name (California Preservation Foundation) to receive the group rate or click on the link CPF.
The Argonaut
Book online and receive 20% off using promo code LBPR
www.argonauthotel.com
Hotel Zoe
Book online and receive 20% off using promo code LBPR
www.hotelzoesf.com
Hotel Names

Address

Est. time-walking

Walking/
Driving
Directions

Contact Information

2775 Van Ness Ave., San Francisco, CA 94109

14 min

415 928-5000

1300 Columbus Avenue, San Francisco, CA 94133

22 min

1-800-465-4329; 415 409-4600

495 Jefferson St

18 min.

415 563-0800

425 North Point St

24 min.

415 561-1100

2190 Lombard Street, San Francisco, CA

14 min

415 921-5800

1501 Lombard St.

12 min.

415 474-3030

1300 Columbus Ave.

20 min.

650 502-4200

3100 Webster St.

12 min.

415 921-5520

2237 Mason St

22 min.

415 776-8688

2700 Jones St

21 min.

415 771-9000

2015 Greenwich St.

11 min.

415 346-4667

Building 240, Fort Mason

6min.

415 771-7277

1750 Lombard St, San Francisco, CA 94123

7 min.

415 921-1842

1450 Lombard St.

12 min.

415 673-0691
Ticketed Events You Don't Want to Miss
Conservation of Historic Concrete and Terrazzo
Wednesday, April 19th, 9:00 – 4:00 PM (includes lunch) | Ticketed: $125 (non-conference attendees) / $95 (for conference attendees)

The full-day workshop will primarily cover preservation philosophy and approach for historic concrete and cement-based terrazzo systems. The in-person workshop format will include presentations with integrated case studies, hands-on demonstrations by industry leaders and craftspeople and a mini-laboratory. Specific topics will include assessment and nondestructive testing, concrete deterioration and distress mechanisms, laboratory studies, concrete cleaning, repairs (including matching historic concrete), corrosion mitigation, and protection systems.
The mini-laboratory session will led by a petrographer and include hands-on microscopic evaluation by attendees of concrete and terrazzo samples with microscopes and other laboratory equipment. In addition, during the hands-on sessions various types of nondestructive testing equipment will be demonstrated to and used by attendees as well as demonstrations by conservators and contractors with extensive experience with historic concrete and terrazzo. Various types of materials and equipment typical for concrete and terrazzo repair and installation will be presented. The demonstrations allow for attendees to closely interact with the craftspeople and petrographers to allow for questions on techniques.
——————————————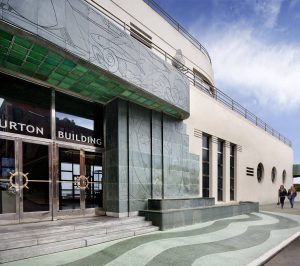 Opening Reception at the San Francisco Maritime Museum
Wednesday, April 19th, 6:00 – 7:30 PM | Ticketed event: $125
Photo Courtesy David Wakely
The 2023 California Preservation Conference gets artistic flair and one of San Francisco's best waterfront views with the Opening Reception at the San Francisco Maritime Museum. This WPA-era space filled with the stunning, colorful and modern Hiler Mural, "Undersea Life." This oil-on-plaster "Prismatarium" mural was designed by Hilaire Hilel to give "striking demonstrations on the relationship of color and light. The Opening Reception includes catered on-site food and complimentary drinks.
——————————————
Emerging Professionals Mixer in Partnership with WCAPT
Wednesday, April 19th, 8:00 – 9:30 PM | Ticketed Event. Tickets are Free – you may select it during conference registration OR select "Tour & Workshop Tickets Only" on checkout to select this by itself.

Join CPF and the Western Chapter of the Association for Preservation Technology (WCAPT) at Silver Cloud – located just a five-minute walk from the conference center. Silver Cloud is a restaurant and karaoke bar located in San Francisco that opened in 1979. Located in the heart of the Marina district and has been a family run business for over 40 years. Tickets to this special event are at no cost and hosted by Conference Sponsor, WCAPT.
——————————————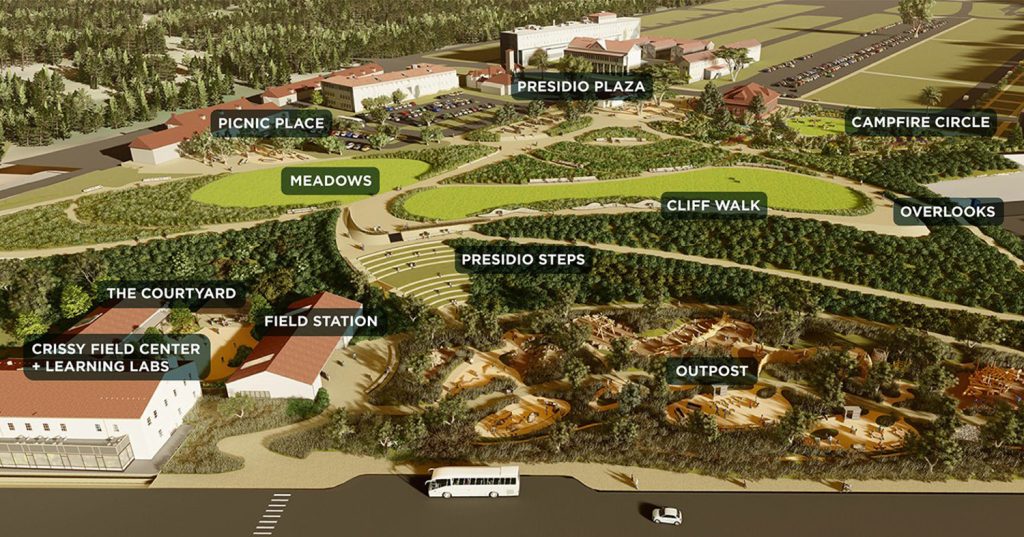 Walking tour of Presidio Tunnel Tops & Battery Bluff
Thursday, April 20th, 1:00 – 4:00 PM | Ticketed Event: $45

Join Presidio Trust historic preservation staff on a walking tour of two new landscape sites in the Presidio of San Francisco: Battery Bluff & Tunnel Tops. Both projects were delivered to the Presidio of San Francisco National Historic Landmark District in collaboration with Caltrans and FHWA as part of the decades-long Doyle Drive/Presidio Parkway project. Open as of summer 2022, both sites now provide unprecedented access to Presidio views, parkland, historic resources, and programming.
——————————————
Preservation Design Awards Pre-event Social Hour – Winning Wine Pairings
Thursday, April 20th, 6:15 – 7:45 PM (followed by the presentation of awards, 8 – 9 PM) | Ticketed Event: $175 (includes wine tastings, food options, and priority access to the Preservation Design Awards Ceremony)

This special social event in the stunning 2019 Design Award-winning Pier 2 Atrium precedes the Preservation Design Awards ceremony. We're celebrating four years of the Preservation Design Awards at this special opportunity for winning teams and conference-goers. Wines will be split into six groups, tied to winning projects from all four years (Spectacle and Imagination; Sacred Spaces and the Inner Sanctum; Sustainability, Conservation and Stewardship; Physical Culture; Beton Brut, Bricks and More; and The Big Reveal). There will be some surprises, a silent auction, and food and drink served.
——————————————
The California and Federal Historic Tax Credits: Historic Tax Credit Equity as a Financing Tool
Friday, April 21st, 9:00 – 12:00 PM | Ticketed: $125 (non-conference attendees) / $95 (for conference attendees)
Join us for an in-depth session on the Federal and California Historic Tax Credit for historic building rehabilitation. Session participants will learn about the federal and state tax credit program, its guidelines, how they work, and the application process. A discussion on structuring a deal, financing, the investor's perspective will be covered. Case studies will show how the incentive can help a rehabilitation project work financially, especially in cases where it may not pencil out without the credit. You'll also learn what is required for a property to qualify for federal and state tax credits and the important areas of focus in preparing a successful application.
Track Titles
Our conference tracks are a set of seven themes based on the following preservation objectives.
Cultural Districts
Equity, Access, and Social Justice
Housing
Interpretation
Reimagining Integrity: From the Intangible to Tangible
Repair, Renewal, and Adaptive Reuse
Technical Tools for Revitalization
Sponsorship
All New Benefits for 2023! Exposure to both the Awards and Annual Conference dual events, exposure on our new conference app, opportunities to reserve private rooms at the conference center, and more!
As a Conference Sponsor you will have access to widespread opportunities to promote your products and services to preservation professionals from across the country and internationally. Our reach extends to all 50 states and 14 countries. Sponsorship levels start at $500 for non-profit organizations and $1500 for commercial partners and are available for the California Preservation Conference starting in December 2022. Questions about Sponsorship? Contact us at
cpf@californiapreservation.org
or call 415.495.0349.
Interested in Becoming a Conference Sponsor?
Click Here for Benefits & Online Signup
Click Here to Download the Brochure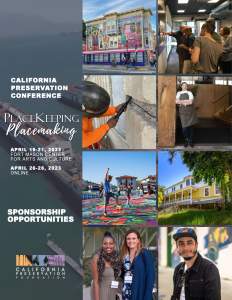 Conference Sponsors
OUR SPONSORS
Conference – Keystone
Conference – Capital
Conference – Pillar
Conference – Foundation
Conference – Non-Profit
Conference Partners
Conference Partners




Past Conference Programs
Interested in Our Past Programs?
Click the year of the program below for all the fun details from the last three years at the CPF Annual Conference.
​​
| | |
| --- | --- |
| | 2022 Online Conference Details |
| | 2021 Online Conference Details |
| | 2020 Online Conference Details |
| | 2019 Palm Springs Conference Details |
| | 2018 Palo Alto Conference Details |
Conference & Awards Photo Gallery
The Staff and Members of CPF Thank Our Team of Sponsors!
Conference – Keystone
Conference – Capital
Conference – Pillar
Conference – Foundation
Conference – Non-Profit