Innovative Historic Resource Survey and Inventory Tools and Techniques
Historic resource surveys, and the inventories they feed into, are the foundation of all good preservation planning. They provide a comprehensive picture of a city or county's historic properties, are a fundamental tool of project review and permitting, and are an important component of a streamlined planning process. With the rise of new technologies, including cloud storage, open source databases, smartphones and tablets, and unmanned aerial vehicles (UAVs, or "drones"), such surveys and inventories are becoming both affordable and efficient. This workshop will look at the latest survey and inventory technology, how to use it, and will reflect on what is possible with these new technologies.
Draft Agenda and Speaker Bios
2017-07-19_Agenda+Bios
Handouts
Presentations & Handouts
Parking Details
THERE ARE ONLY 10 paid visitor spots at the nearest lot directly to the south of the Central Energy Plant. Those spots will fill up, given our workshop attendance numbers. Below 
find a parking map where visitor parking locations are marked.
The parking locations are relatively close to the Central Energy Plant but will either require some short walking or taking the free SLAC Marguerite Shuttle which runs every 30 minutes ( schedule here:
https://transportation.stanford.edu/marguerite/slac
). We HIGHLY recommend you explore parking options prior to arriving. NOT ALL parking spots at Stanford are designated for visitors. Please read the signs carefully. Refer to the attached map for all visitor parking areas circled in
red
. The Einstein Room is circled in
green
.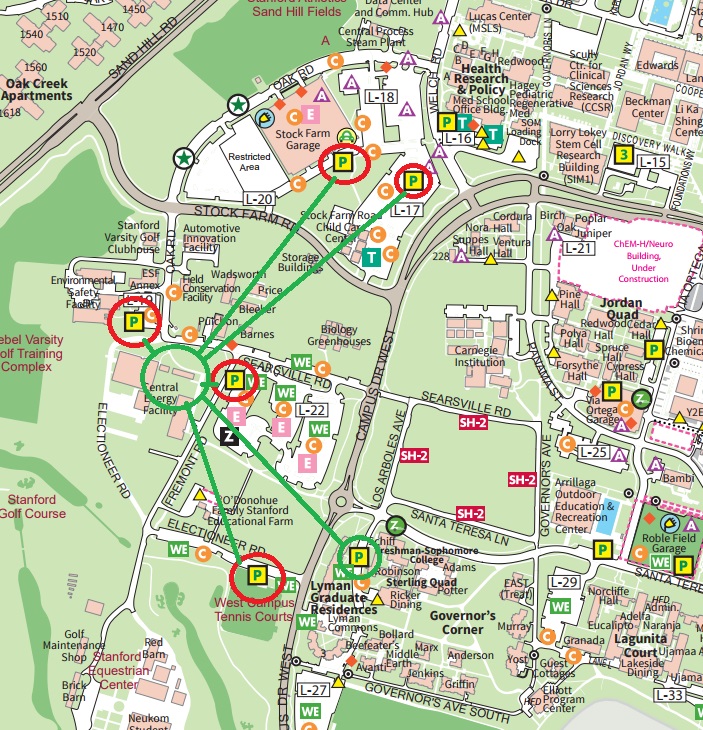 Speakers
| | |
| --- | --- |
| | Sean Headrick started AeroTestra in 2012 and is proud the company continues to be a cutting- edge contributor to the robotics (r)evolution we are experiencing today. A self-taught designer and engineer, Sean has spent the majority of every day for the past 25 years identifying design challenges and creating solutions and systems to resolve them. His mantra is "thoughtful, efficient design," a concept you will find at the center of all AeroTestra products. |
| | David Myers is a senior project specialist at the Getty Conservation Institute, where he has worked since 2001, and is manager of the GCI's Recording and Documentation Unit and part of the Buildings and Sites department. He now works on projects developing the Arches open source heritage inventory and management system, and on research on applying consensus building and conflict resolution methods to cultural heritage place management. In the past he has worked on GCI projects in Jordan, Egypt, Southern Africa, for Iraq, and in Los Angeles. He received a master of science in historic preservation and advanced certificate in architectural conservation and site management from the University of Pennsylvania, and a master of arts in geography from the University of Kansas. |
| | Matthew Sipple has 15 years of experience in land surveying, the past eight years focused on laser scanning, and has utilized a broad range of technology to obtain field data and produce deliverables based on specific client needs. His responsibilities include maintaining complex project schedules and coordinating with employees, consultant teams and the client from the initial project kickoff through final delivery. Mr. Sipple specializes in field data reduction and preparation of detailed drawings based upon 3D point clouds and conventional ground based survey information. He has an intimate knowledge of a variety of software platforms, including AutoCAD, Cyclone, Terrmodel, Cloudworx, and Revit. Over the years he has worked on projects ranging from large scale public/private redevelopments to highly detailed models for part replications. Mr. Sipple has also developed unique solutions to obtain 3D Laser scan data in complex and dangerous project sites. His expertise helps the Langan team remain on the cutting edge of technology. |
| | Maggie Smith is a Cultural Resources Planner and Architectural Historian at Page & Turnbull in San Francisco. She is well-practiced with researching, documenting, evaluating, and providing rehabilitation guidance for historic buildings, sites, and districts. To facilitate her passion for reigniting community development in historic environments, she has experience with preservation and urban planning tools and policies. Maggie has conducted various historic resource studies, which ranged from reconnaissance-level surveys to large-scale assessment studies throughout the United States. Maggie has also spent time creating and managing geographic information systems to help inform and be incorporated into preservation design guidelines and character studies. Maggie holds a Master of Science in Historic Preservation and an Urban Redevelopment Certificate from the University of Pennsylvania. She is on CPF's Education Committee, as well as the Preservation Rightsizing Network's Communications Committee. |
| | Brandon Stark is the director of the University of California's Center of Excellence on Unmanned Aircraft System Safety, where he provides system-wide UAS expertise to all 10 of its campuses, cooperative extensions, research centers and the UC's Natural Reserve System that totals over 750,000 acres across the state of California. The rapid growth of unmanned aircrafts has manifested across a multitude of domains, from engineering programs and education to facility management, campus promotion and student clubs, has necessitated the implementation of a UAS Safety Management System as an infrastructure to support and train UC staff, faculty and students for regulatory compliance, risk assessments and the safe operation of unmanned aircraft systems, while providing efficient centralized management and enabling innovative research and use. Brandon Stark is the chief policy writer for Unmanned Aircrafts for the UC system and campuses and architect for UC UAS training programs and fleet management. He is an expert on Unmanned Aircraft Systems technology, their use in research and commercial operations, UAS regulations and policy, specializing in higher education. |
| | Caitlin Turner is a contract conservator with Page & Turnbull in San Francisco. She has a BA in Art & Architectural History and Economics for the University of Virginia where her stint as a historical tour guide ignited her love of historic buildings. She has a Master of Science from Columbia University focusing on material conservation. Her background also includes considerable focus and employment in software and technology, which supports her interest with software solutions for preservation. Her work focuses on documentation and site survey with an eye to maintenance and material repair, and the integration of new technical solutions for evaluation, design, and construction administration at Page & Turnbull. |
Learning Objectives
Use and understand the latest technologies for both small scale and large scale, as well as reconnaissance and intensive surveys.
Understand how surveys play a vital role as planning tools.
Understand the relationship between inventories and surveys, and learn about open source software purpose built for historic resource inventories.
Understand the interactivity/co-dependency of surveys and context statements.