Interested in Becoming a Conference Sponsor?
Click Here for Benefits & Online Signup
Click Here to Download the Brochure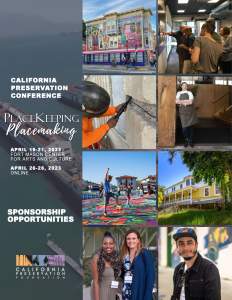 Placekeeping/Placemaking
2023 California Preservation Conference
Fort Mason Center for the Arts, San Francisco, Calif. | April 19-21, 2023
Registration (opening January, 2023), includes access to the following:  
Placemaking/Placekeeping, Fort Mason, Sanfrancisco (April 19-21, 2023) – Training programs focused on six key values in a multidisciplinary training series, both at Fort Mason and offsite for field study.
Technology Toolkit (April 19 and online) – On-site and online. Targeted training for professionals focusing on materials conservation, structural rehabilitation, curtain walls, health & safety, craftsmanship, and building envelopes. Onsite training sessions in San Francisco, as well as online programs. AIA HSW units included in many sessions.
Placemaking/Placekeeping, Online Programming (late April, 2023) – Join live online programs to receive CEUs and fulfill CLG training requirements.
Why attend? 
Obtain Continuing Education Units available for all educational programs at no additional cost (CEUs not available for Doors Open events)
Network with friends and colleagues across the country and internationally in our unique online, interactive events.
Keep up with the latest research and scholarship in historic preservation, city planning, equity issues, design, archaeology, and architecture.
Gain unique and unparalleled access to California's hidden histories and masterworks of design.
A program that fits flexibly with your schedule. Watch the recordings later!
Registration & Details
Conference Registration
Conference registration opens in January, 2023. Keep an eye out on this page to register and receive early discounts and access to limited capacity tours.
Continuing Education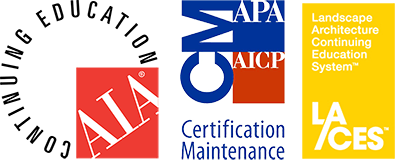 All live programs qualify for continuing education units through the AIA, AICP, ASLA and CLG. All attendees can take advantage of our continuing education program at no additional cost. Many sessions qualify for Health, Safety, and Welfare units (HSW). Some sessions will qualify for AICP legal and ethics credits.
For More Information
Conference Agenda & Schedule
Programs include over 40 sessions, tours, and special events. This year, the events include:
Opening Reception (4/19) at the Maritime Museum (historic bathouse at Aquatic Park)
President's Circle Reception (4/20) – an exclusive "thank you" reception for our major donors and sponsors, held at historic Fort Mason.
The 2023 California Preservation Awards Reception and Ceremony (4/20) at the Cowell Theater and Pier 2 at Fort Mason.
Closing Reception (4/21) at the Fort Mason Store House and Off the Grid.
Exhibitors hall and registration area in the historic Fort Mason Store House.
Full Conference Agenda
The agenda below is a preliminary schedule. Subject to change.
Track Titles (Tentative)
Our Conference Values are a set of seven themes based on the following preservation objectives.
Cultural Districts
Equity, Access, and Social Justice
Housing
Interpretation
Reimagining Integrity: From the Intangible to Tangible
Repair, Renewal, and Adaptive Reuse
Technical Tools for Revitalization
Sponsorship
All New Benefits for 2023! Exposure to both the Awards and Annual Conference dual events, exposure on our new conference app, opportunities to reserve private rooms at the conference center, and more!
As a Conference Sponsor you will have access to widespread opportunities to promote your products and services to preservation professionals from across the country and internationally. Our reach extends to all 50 states and 14 countries. Sponsorship levels start at $500 for non-profit organizations and $1500 for commercial partners and are available for the California Preservation Conference starting in December 2022. Questions about Sponsorship? Contact us at
cpf@californiapreservation.org
or call 415.495.0349.
Interested in Becoming a Conference Sponsor?
Click Here for Benefits & Online Signup
Click Here to Download the Brochure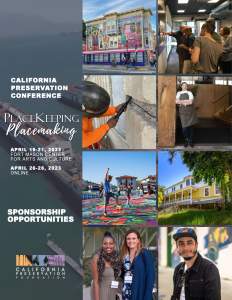 Past Conference Programs
Interested in Our Past Programs?
Click the year of the program below for all the fun details from the last three years at the CPF Annual Conference.
​​
| | |
| --- | --- |
| | 2022 Online Conference Details |
| | 2021 Online Conference Details |
| | 2020 Online Conference Details |
| | 2019 Palm Springs Conference Details |
| | 2018 Palo Alto Conference Details |